Instagram is the second-largest social media marketing platform in the world. With over one billion monthly active users, and 500 million daily users, small businesses can reach out to a vast audience active on the platform and willing to buy from them.
However, marketing a small business on Instagram is not all sunshine and rainbows. Still, it is worth the effort if you know how to leverage it effectively to stay competitive and increase your sales substantially.
Also, before we continue, if you own a website on WordPress, we would love to present you with WPMU DEV. It is a hosting service that will be a game-changer for you!
In this mini-guide, I will provide you with some tips and techniques on how to market a small business on Instagram. Then, if you're interested in learning more, keep reading this post.
1. Switch to Instagram Business Account
Setting up an Instagram business account will maximize your marketing impact. Having an Instagram business account will provide you with various tools and features, including Instagram Insights, a clickable link in bio, Instagram shoppable posts, ads, and more.
2. Craft an Impactful Instagram Business Bio
In your Instagram business bio, you only have 150 characters to explain in the best way what your business is all about. Therefore, you should use it wisely because an Instagram bio has a critical role in securing your brand's presence. It should leave a good first impression and explain what makes you stand out.
Focus on using a username or profile photo relevant to your business. Ensure to include crucial contact information such as email, phone number, or a link to your website. You can also add the right hashtags to help people find you.
3. Reach Out to More Targeted Followers
As a small company owner, you should make every effort to ensure that your target audience discovers you on the platform. Keep on reading to find out how to get more followers on Instagram.
Employ an Instagram Growth Service
Using an efficient Instagram growth service will provide real targeted and engaged followers. A high-quality service will apply some advanced methods and quality filters to increase your desired follower base organically and safely. Be careful to choose a legal, transparent, and dedicated service to its client's success.
Also, remember that the growth service will help you gain more exposure, but if you don't have anything interesting to share, even the best Instagram growth service can do nothing for you.
Have a Hashtag Strategy
Use hashtags and geotags strategically to attract the right audience interested in your location, products, or services. If you apply the right and relevant keywords in your hashtags that your audience is searching for, you improve the chance of attracting more qualified followers to your page.
Take advantage of using specific, industry-relevant, branded, or local hashtags in your content to increase your visibility on Instagram.
Partner with the Right Influencers
Working with the right niche-relevant influencers can be a great way to reach a community of highly engaged and interested followers. Nevertheless, according to most marketers, the process of selecting a good ambassador for the brand is still their most significant challenge in setting up a successful Influencer marketing campaign.
Therefore, if you are too busy to handle the whole process yourself, we recommend consulting with an influencer marketing agency like Ainfluencer, a DIY influencer marketing marketplace, to guide you correctly through the way.
4. Develop a Consistent Content Strategy
A consistent content strategy has a crucial role in staying competitive on the platform. Your content marketing will build trust and add value to your followers. Developing a robust content strategy is like a long-term investment that can positively impact your ROI and conversion rate. That is why 70% of marketers use content strategies, and 72% believe that having a good content strategy is vital to their success.
You should focus on producing the type of content that resonates most with your followers. Therefore, it is better to be engaging, informative, and customer-centric.
Moreover, you should post your content consistently, not once in a while. And most importantly, you should publish your content correctly when your followers are most active on the media. Then, plan a content calendar to organize a steady stream of high-quality posts.
5. Boost the Engagement Rate
Achieving a reasonable engagement rate can boost your Instagram account, helping new customers discover your business. Moreover, it makes your business appear more credible online. So besides increasing your follower count, maintaining a high engagement rate is essential.
Otherwise, if you have a lot of followers who do not engage with your content, this will hurt your engagement rate and decrease your account's visibility on the market.
You can increase your Instagram engagement rate in many ways. For example, sharing high-quality value-added content, hosting Instagram contests or giveaways, or sharing user-generated content (UGC) are some of the best marketing tactics to increase your engagement rate significantly.
Additionally, try to get involved in the conversations with your customers by responding to their comments and questions. Sometimes sharing advice, tips, recommendations, or small talk through Instagram live or Stories can assist you in establishing a more friendly, meaningful, and trustable interaction with your followers.
6. Track Your Performance
Data and analytics help you understand your followers to serve them better. Understanding your customers' motivations and needs will let you enhance the quality of your products or services and stay ahead of the competition. Apart from this, keeping an eye on your Instagram marketing performance allows you to improve it over time.
Via Instagram Insights, Instagram business account users can see analytical data related to their posts and profile. Nevertheless, you need also to use other Instagram analytics tools to dig deeper and access more detailed information.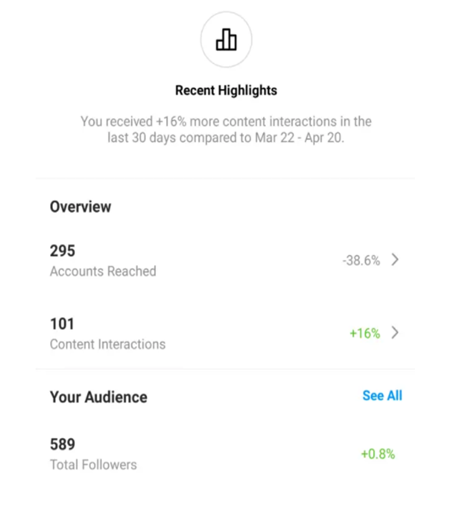 Final Note
If you want to make your business more profitable, you should embrace Instagram and make it work for you. Instagram is a powerful marketing tool, so do not miss this fantastic opportunity for growing your business online.
This article presented you with the finest tactics for increasing brand awareness and getting closer to your business objectives.
If you have not leveraged Instagram to market your business there, why don't you give it a try? Because Instagram is free and easy to use. But if you take Instagram's best practices into account and utilize them correctly, I bet it will be a game-changer for you.