Every individual who decides to jump into the eCommerce world needs to choose the most efficient and convenient payment tools for their customers.
Better payment solutions bring more sales and money, so picking the best possible payment method has always been challenging. The goal has always been to make paying online safe, smooth, and straightforward.
Also, before we continue, we want to mention that owning an eCommerce business is not always that easy. But you, as the owner, should make sure to provide your customers with the best experience possible.
To achieve that, you should make sure to invest in a high-quality hosting platform. And one of the best choices out there is definitely WPMU DEV.
WPMU DEV's all-in-one platform makes it easy for anyone to create, manage, and sell websites. Get 20% off any of their plans. Free trial included. 
If you will use WordPress and WooCommerce as your eCommerce solution, we would like to recommend WooCommerce Order Export, a plugin that offers you the ability to export all your orders, customize the fields that you export as needed, schedule the export of orders that can be delivered via FTP or email and more.

And since shipping to a wide area or even globally can be complex and require a lot of shipping methods, a plugin that can help you set up shipping just the way you want based on the user's cart contents, weight, and more is WooCommerce Table Rate Shipping.
But, when it comes to the best online payment tools, in this article, we will present three of the most popular ones.
Klarna

Klarna is a Swedish company founded in 2005 which gave online shopping a new form and spark. It allows customers to pay how and when they want to, owning a huge global base of 90 million active consumers.
Paying for goods online was never easier. Because, with this company, you can try the product before you pay for it, split the cost into a certain number of payments. And all that, with a fully transparent overview of your transactions. They are expanding their availability across the world's top-class stores.
However, you can already complete your online purchases from Adidas, H&M Shein stores through Klarna. This company might not be the best option for some low-cost online purchases.
Still, if you need to buy an online product that you cannot afford, Klarna is an excellent option. It allows customers to pay for the product in 30 days or four equal installments.
Recharge Payments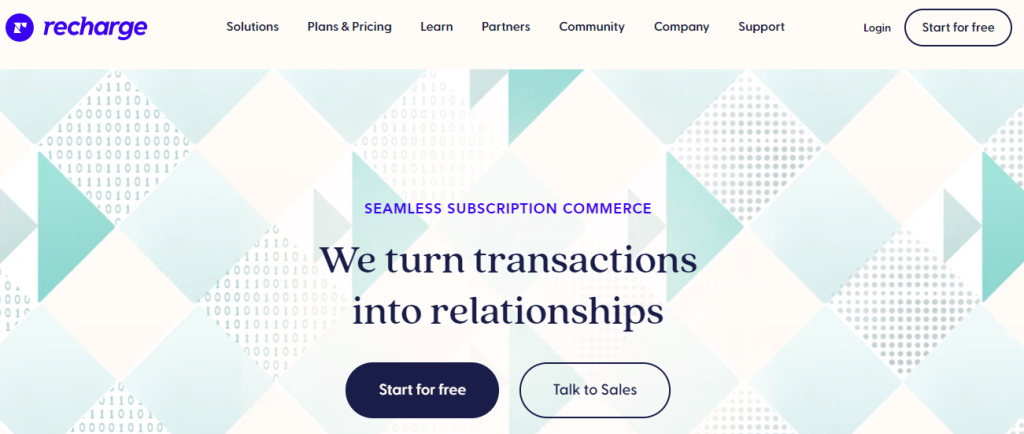 Recharge Payments is another payment tool that plays a vital role in online purchases. You can see it from its name; Recharge Payments is a tool that helps merchants connect with their customers through flexible and compelling subscriptions.
If you own a store, you can easily set up your subscriptions with Recharge Payments in a few clicks. It supports all the major payment processors such as PayPal, Stripe, Google Pay, etc. Recharge Payments is simple to integrate with popular eCommerce platforms such as Shopify with over 1.75 million sellers on Shopify, Magento, Big Commerce, etc.
Subscriptions must be flexible and customizable if you want to engage with your customers for a more extended period. Customers have all the freedom to access their subscriptions. They can easily update their orders through text messages, swap products, change shipping addresses, etc.
Recharge Payments adds another layer of interactivity, allowing the customers to skip or delay subscription shipment for a month, rescheduling a delivery without canceling the subscription.
Customers can easily swap or change the product to which they are currently subscribed in a matter of seconds. Recharge Payments provides merchants with a detailed analytical overview of all cancellations, failed charges, and swapped products, allowing them to understand better and know their customers.
It comes with two monthly plans: Standard plan without monthly fees, which charges 1% + 10¢ per transaction, and Pro plan costing 1% + 19¢ per transaction.
Partial.ly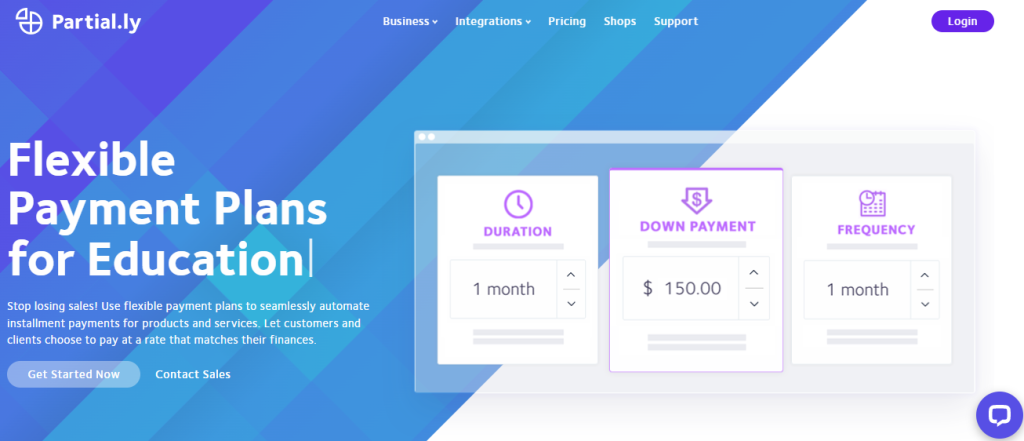 Partial.ly is an eCommerce payment tool that emphasizes the importance of making customers happy because a happy customer is a returning customer.
This tool brings an entirely new way of paying for online goods, rejecting a traditional single payment method. It was replaced with a flexible, modern approach in which customers can freely choose and set down payment, frequency, and duration of payment plans based on their current financial situation.
All the payments are automated, and you can process them in one click. However, this tool also provides manual payments in any amount. They claim to have industry-leading security and encryption, having their service available in 25 countries worldwide.
Besides those features, Partial.ly provides a complete invoice system, improving cash flow by making your customers pay on time. You can connect it with QuickBooks, FreshBooks, or Harvest, extracting existing invoices from these services and merging them.
You can use this tool for any business, including education, rent, travel & reservations, etc. For every transaction you make, Partial.ly charges you 5% + 30¢.
Conclusion
Ecommerce business is possible without these mentioned tools, but the efficiency and sales performance is significantly different. These tools brought a whole new set of possibilities for customers.
They have all the freedom and flexibility in online shopping. Also, paying for the products in dozens of ways and choosing the one that fits their needs and finances.
The E-commerce market globally has been experiencing a radical shift in consumer behavior towards them for quite some time. As a company, you should always adapt to changing dynamics and then make suitable changes in your systems. For example- there has been a growing need among younger consumers for faster and more efficient delivery of products. Hence the reason for them ordering online but taking the delivery of those by using curbside pickup as it's a lot faster than waiting for the product delivery.
So if you are a business that wants to cash in on this trend then you have to re-organize your supply chain systems to have a  faster order processing time. You can use a good procure to pay (P2P) software to efficiently manage your supplies and then ultimately boost your efficiency. This is absolutely necessary if you want to stay relevant in the market since consumers always prefer convenience over anything else. So if you don't give them what they want they will instantly switch to your rivals who might be offering a better option.