You're undoubtedly wondering how to activate maintenance mode on your WordPress site. Whatever your purpose for deploying temporary under construction pages in WordPress is – site downtimes or a first launch – you'll need a simple solution.
It is normal to use plugins to make things easier. Usually, this is when WordPress coming soon plugins, both full-featured and simple, come in helpful. Also, creators mainly designed them to make creating under construction templates very simple. There is whatsoever no-brainer, no-coding, and most importantly, no-tinkering.
However, you must devote your own time and effort to it. In some circumstances, it's preferable to leave all website management to WordPress experts and never have to worry about anything. However, if you're ready to get started with the plugin, go ahead.
Under Construction and Coming soon pages are attractive options for temporarily stopping your WordPress website. We have an incredible choice of WordPress coming soon plugins you can start using in just a few minutes. And whether you prefer a plain or animated coming soon design, There is plenty to choose from on WordPress.
What Is a Coming Soon WordPress Plugin?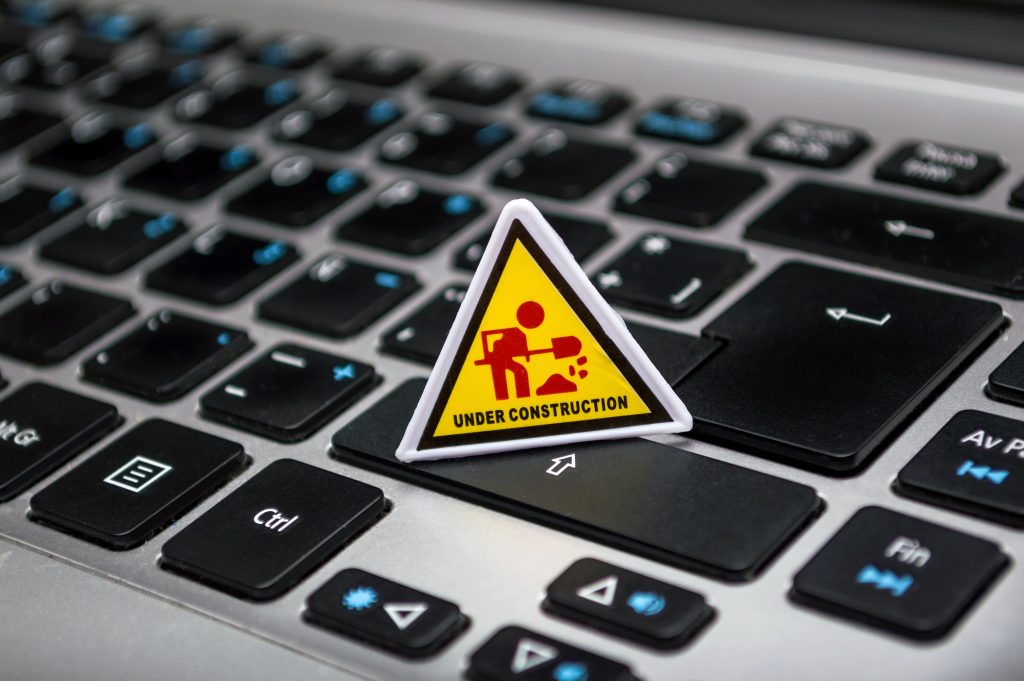 When your site is down or in maintenance mode, a coming soon plugin or maintenance mode plugin makes it simple to build landing pages for your visitors. Soon to be released Using WordPress plugins, you can instantly create high-converting maintenance and coming soon pages.
Usually, they offer you high functionality along with a low learning curve. It makes it easy for non-technical people to create WordPress pages. Furthermore, these plugins frequently offer gorgeous backdrop visuals and movies, as well as countdown timers, animations, and lead generation tools that make them pretty unique in a pile of the same or similar ones.
Also, it is vital to mention few primary reasons why you should use a WordPress maintenance mode or coming soon plugin for your site.
Boosting your SEO: Before you begin, start establishing your site's domain authority.
Make a lot of noise about your product: Create a pre-launch campaign to pique prospects' interest in your new product.
Improving UX: Inform users that your site is under construction so that they are always informed.
Expand your email list: Begin building your email list even before your site is online.
We have prepared for you 3 of the most outstanding plugins for creating your own coming soon pages. Now that you know what they are and why they're so vital let's get started.
1. Coming Soon & Maintenance Mode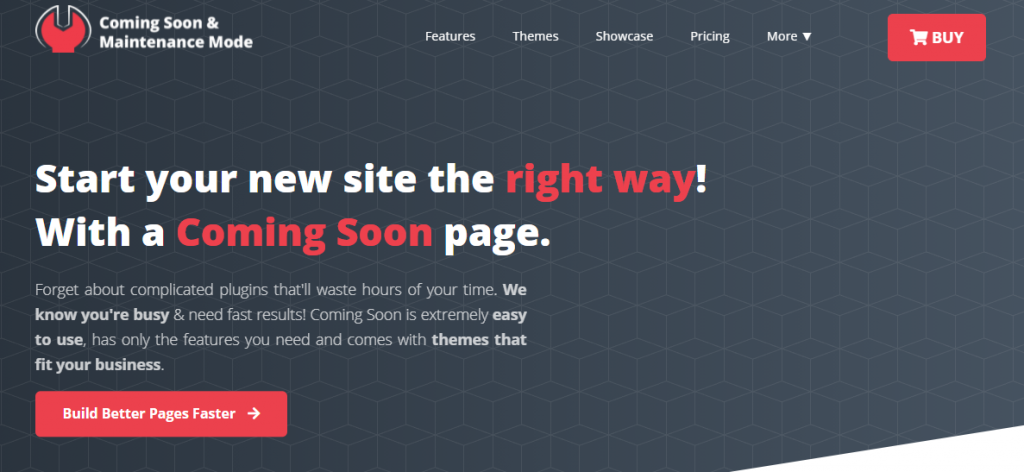 The Coming Soon & Maintenance Mode plugin lets you create a Coming Soon Page, Landing Page, Maintenance Mode Page, or Launch Pagewebsite fast and easily. The best way to promote and start any new website is with a Coming Soon page so you can start collecting leads right away!
The Coming Soon plugin is easy to use and adapts to any WordPress theme or plugin. However, in just a few minutes, you'll have a great Coming Soon Page! You'll have complete control over the website's frontend.
Also, you'll be able to change practically every aspect of the Coming Soon or Maintenance Mode pages to suit your needs. You can easily connect with the MailChimp API to collect emails from visitors, and it's GDPR compliant.
The Mailchimp integration allows you to collect leads and subscribers on your Coming Soon Page. It enables you to broaden your audience as soon as your coming soon page is live. Check out the PRO version if you need to connect to any other autoresponder providers.
The Pro version is available for yearly ($29/year), lifetime ($79), or agency lifetime ($199) pricing if you have more than one site.
Plugin Features
For Coming Soon Pages, the PRO version includes more than 200 themes, 26 Instagram filters, and 47+ amazing content animations.
All WordPress themes and plugins are compatible.
Also, a great thing worth mentioning is that background color, cover picture, typefaces, and logo are all completely configurable.
In the PRO version, there are almost two million premium photos.
Before activation, you have the option to see the Coming Soon or Maintenance page.
The PRO version includes SEO preview and analysis tools to ensure that your coming soon site ranks first from the start.
Rearrange the parts of the page to your taste – simple dragging and dropping.
You can easily add custom CSS and HTML.
On your coming soon page, collect emails with MailChimp, which comes with free GDPR-compliant API support.
The plugin is GDPR compliant because it does not set any cookies and displays an optional warning below the email field that users must accept to subscribe to the newsletter. You can allow search engines to see the usual website while visitors see the Coming Soon page.
2. UnderConstructionPage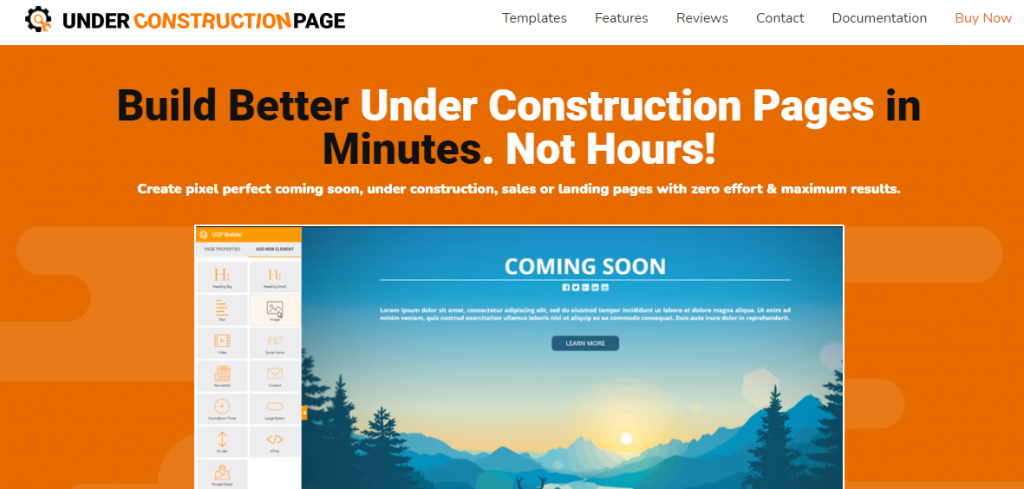 Install and configure an UnderConstructionPage, Maintenance Mode Page, Coming Soon Page, or Landing Page in under a minute. You won't be wasting your time with UnderConstructionPage! It's easy to use, fast, efficient, and has unique templates that people enjoy.
The drag&drop builder has over a million hi-res searchable photos, more than 200 templates, affiliate&traffic tracking. Furthermore, that's not all; some more notable features are:
Advanced access control,
MailChimp,
Zapier,
Universal autoresponder integration,
White-label license mode
Priority support
All of these features you can get in the PRO version. You can find more information on the plugin's official website.
This is an essential, no-nonsense under construction plugin to conceal a site behind an Under Construction page. On the Under Construction website, you can see live samples.
Other Plugin Features
On/off for the construction mode
Automatic End date and time – turn off the under-construction status on a specific date.
Google Analytics Tracking ID – enable tracking through Google Analytics Theme – try out all available themes (over 200).
Custom CSS – change the look and feel of any area of the page to suit your needs.
Title – for SEO purposes, this is the title of the page.
Description – a description of the page for SEO purposes.
Collect leads and emails with specific boxes and pop-ups, then sync with MailChimp and other autoresponders.
Also, show a distinct link to the login form or WP admin if you are already connected to Social icons/links
. User roles that are allowed can see the site instead of the under-construction page.
However, we also must mention that W3 Total Cache, WP Super Cache, WP Fastest Cache, and many more cache are all compatible with the Under Construction Page.
If you need to put your website into maintenance mode right now and can't wait, I think this plugin is the way to go with its plethora of unique layouts.
3. Maintenance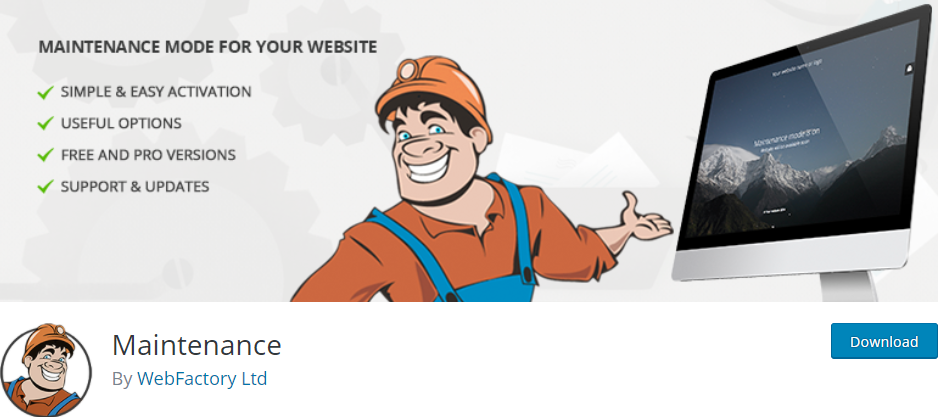 The Maintenance plugin allows the WordPress site administrator to close the website for maintenance. Also, activate "503 Service temporarily unavailable" and set a temporary page with authorization. All of which you can change in the plugin settings. On all devices, you may easily adjust the excellent look.
Add your logo, a backdrop image, a color, and some text.
However, there are several reasons why we like this plugin. The free version is extremely feature-rich, and the Pro version is highly affordable. These guys provide super professional and creative premade designs for coming soon pages similar to those offered by website design companies in London.
The free plugin lets you personalize a coming soon page by changing the colors, fonts, text, logo, icons, and backgrounds, among other things. Google Analytics and a fullscreen background are also supported.
Need 200+ premade themes to create landing pages and coming soon pages faster? Please take a look at Maintenance Mode and Coming Soon plugins.
Plugin Features
HTML/CSS layout that is retina ready
Background in full-screen mode (Backstretch)
Background blur effect
You can upload your logo
Fonts, icons, and background colors can all be customized.
Change the title, headline, and text
On the frontend, users log in
Status of the admin bar
Google Analytics support for 503 errors on/off
Select pages to keep them out of Maintenance mode.
All popular caching plugins are supported.
For altering the show, use the MTNC load maintenance page for this user filter.
Adding Content to "Coming Soon" Pages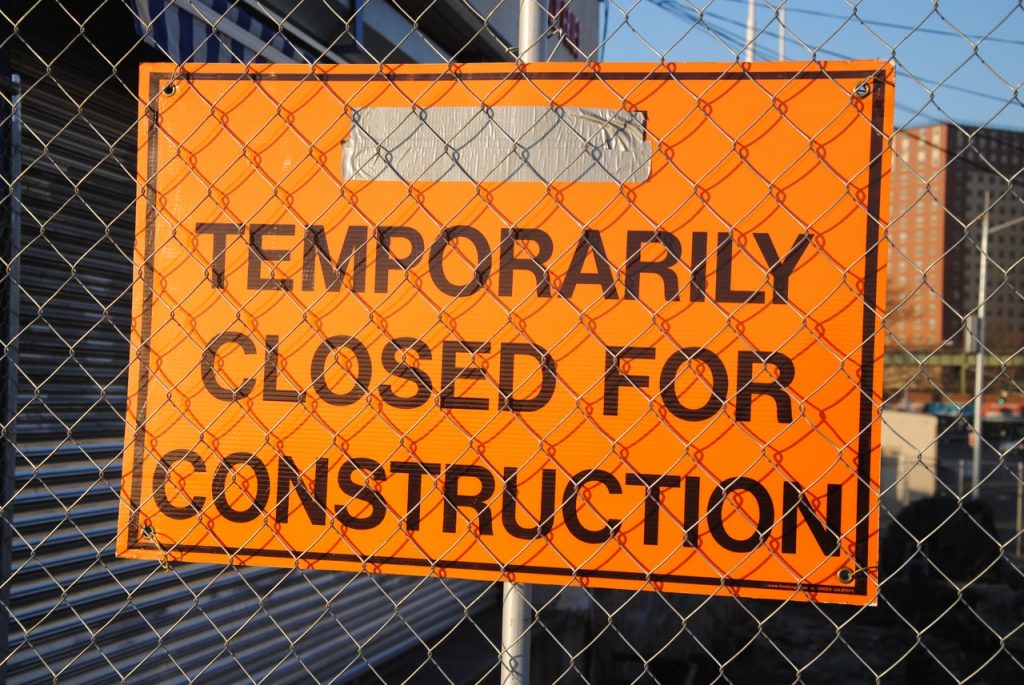 After you've decided which WordPress plugin to use, you'll need to load the page with the appropriate material. Not everyone can write captivating and eloquent descriptions because they aren't skilled copywriters. As a result, we've prepared a few go-to options that you can use on your WordPress coming soon page.
Any WordPress website that is under construction communicates to visitors. Also, it notifies them that your site is undergoing significant changes. Try the following example of websites coming soon text. Pique the audience's interest even more:
Get Ready. Something extraordinary is coming!
Almost every coming soon plugin can double as a maintenance plugin or a coming soon plugin. For example, any plugins listed above will come in handy if you have a blog in the works, but the domain and website address are already in place. Pick one of the following titles or make your own under construction statement.
Which is The Best WordPress Coming Soon Plugin?
However, the most popular and the best WP coming Soon plugin is UnderConsructionPage. This plugin offers you all the features you need while building a coming soon or even a maintenance mode page. In this article, you can find side-by-side features and pricing of all themes and plugins mentioned above.
Have you been able to identify the most suitable and cost-effective solution for your requirements? Please share your ideas in the comments section to assist other readers in selecting the best WordPress coming soon plugins for their projects.
Make sure your website treats mobile users well once it's ready to go live again. Create mobile-optimized versions of your pages and articles using Google's AMP technology, making your site load lightning fast on mobile. Using a dedicated WordPress AMP plugin, learn how to achieve it.