Making changes on your WordPress website can be a long and tiring process, and work sometimes cannot be done in an hour or two. In these situations, your website can break due to misconfiguration of plugins, regular maintenance, and updates, or simply because you are experimenting with a new design for your home page.
It is not the best idea to show your unfinished work to your clients, customers, and whoever visits your website. A good solution in this scenario is to put curtains on your work somehow, something similar to when an office is under renovation.
Maybe you are just starting your website, and you want your visitors to know when they can expect your website to be live. Luckily for you, a big difference between office renovation and website maintenance is that your 'curtains' can be interactive. You can use them to give your visitors a message or redirect them to some of your social media.
This is possible with only a few clicks with the WP Maintenance plugin, which comes with predesigned themes and the flexibility to make your themes. It includes dozens of modules that allow seamless integration for collecting emails, displaying timers and loading bars, etc.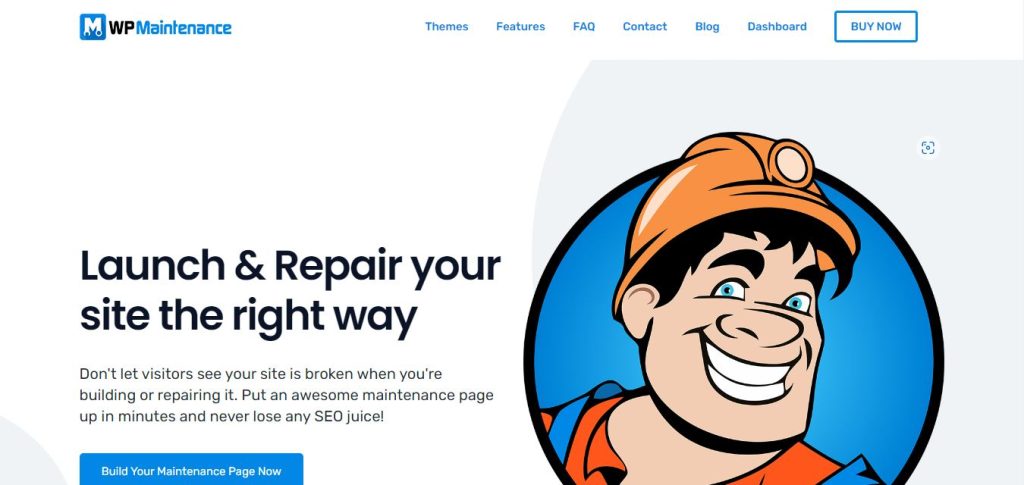 Now that you know a good solution for your work-in-progress page let's talk about a plugin that can offer you all of the perks we mentioned. WP Maintenance puts the status of your page to "503 Service temporarily unavailable", which is a great beginning. Google or other web search engines will know that you are improving your website.
Great beginning, but your visitors may not understand this message. For this reason, you would like to make some visual improvements. Luckily enough, WP Maintenance allows you to do just that!
Free Version of WP Maintenance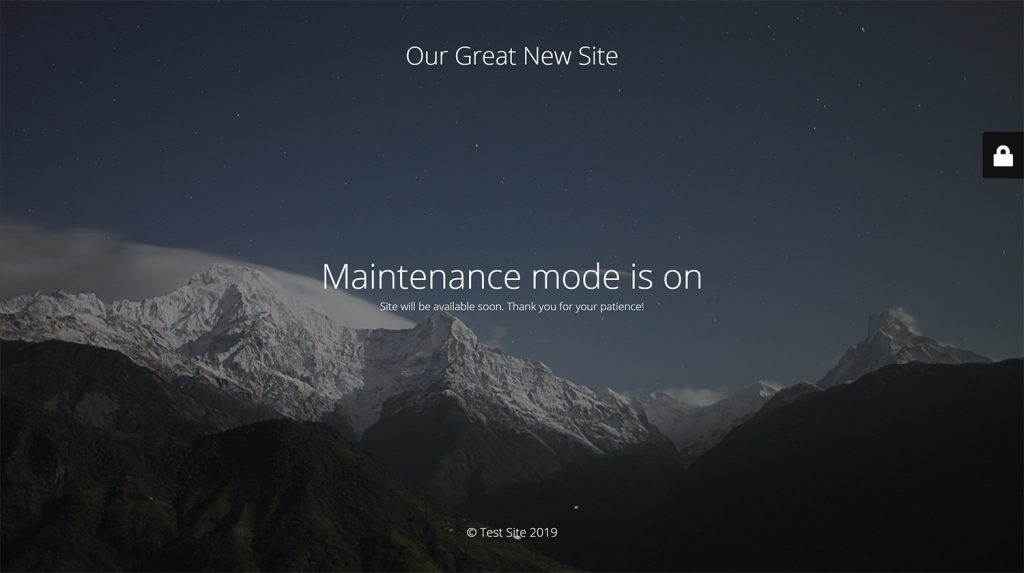 Adding the logo, excellent headlines, and visually attractive backgrounds makes your page look incomparably better. This all is possible even in the free version of the plugin.
If more people collaborate on the work on your page, you might want to add a user login module on your homepage. Having some insights into how visitors react to seeing your maintenance page is also a great perk, and this plugin easily integrates with Google Analytics.
Combine this with excellent responsivity across all devices, and you just got yourself a perfect page that provides something to your visitors while you deal with some adjustments on your website. The features come in a plugin that requires you to install it with few clicks and is completely free. However, if you want your page to look better in each pixel, you should see what WP Maintenance PRO offers.
The creators of this plugin ensured that you could get your professionally-looking maintenance page ready in minutes! This is possible because the library has more than twenty different themes that you can use. Designers made these themes, and using them guarantees you neat looking page.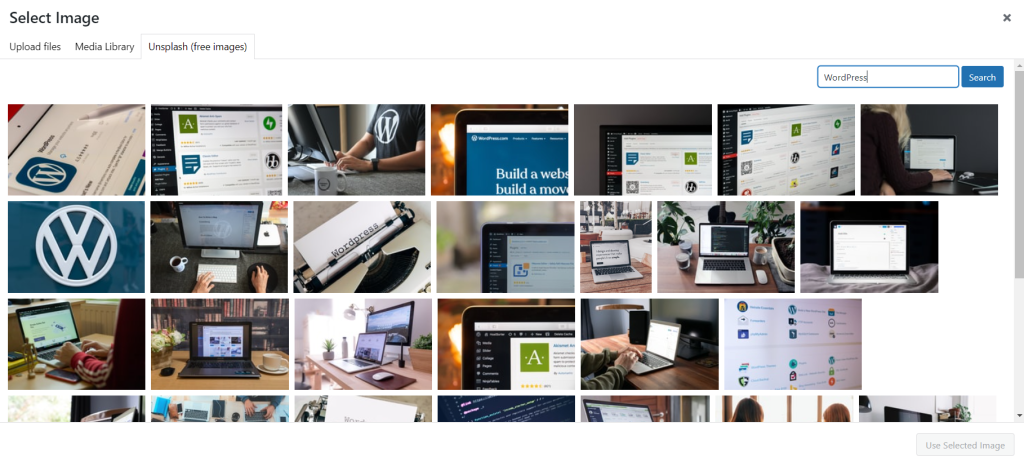 Let's not forget the enormous premium images library with the plugin. Visually representing what your brand stands for is very important. You might want to find the background photo that suits your brand the best. Good to keep in mind that you can use Background Blur and Background Image Filter options to style the picture in the way you want.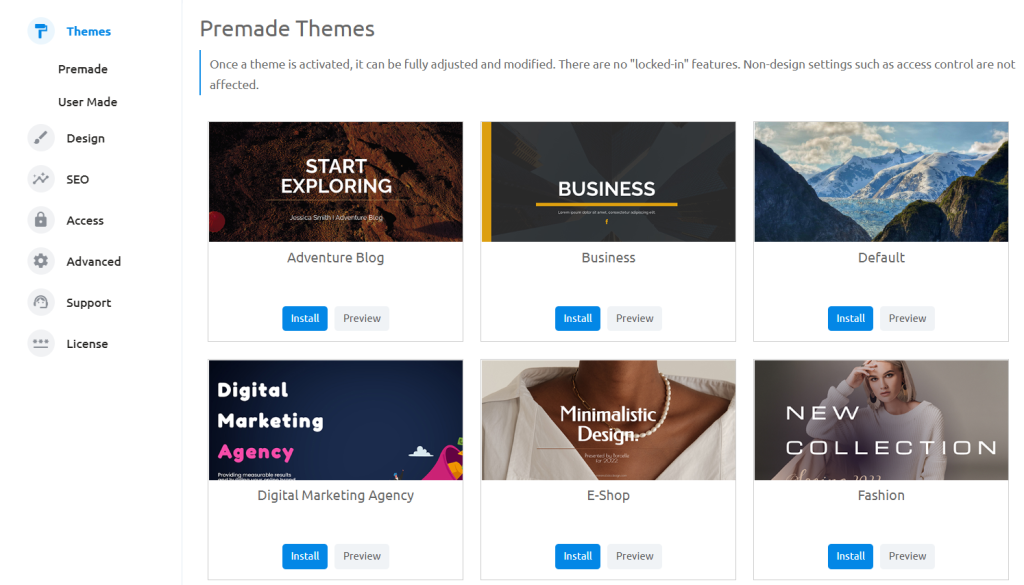 As we already mentioned, an extensive gallery of premade themes is available in WP Maintenance. Use this feature to look around and find the theme that suits the best to your needs.
Let's take an example that you need an ideal podcast theme for the one you're working on. Luckily, there is a theme built precisely for this purpose, and after previewing it by simply clicking on the Preview button, you can go head towards installing it.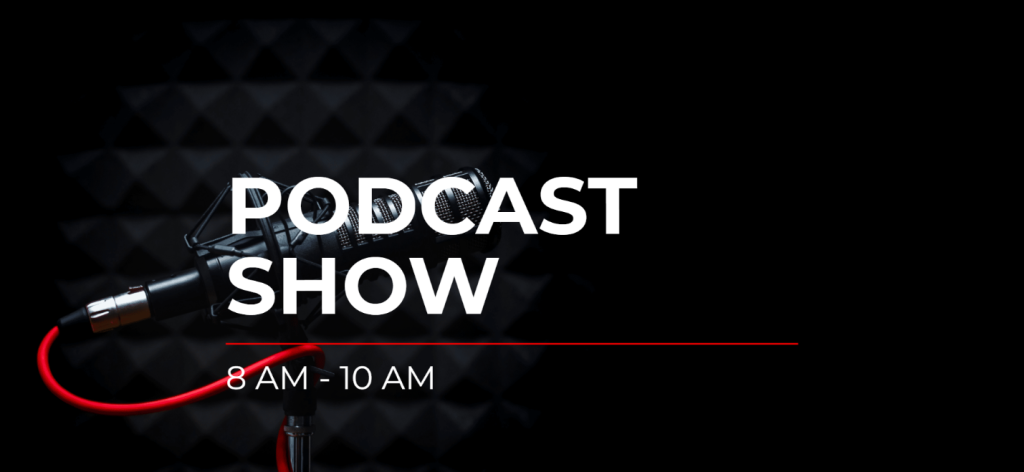 Installation of the theme is equally simple as previewing it – click the Install button, and you are all set! Now let's imagine a scenario where your podcast is not airing at 8 AM, or you want to modify it with one of the many ideas of what to write under the podcast's name.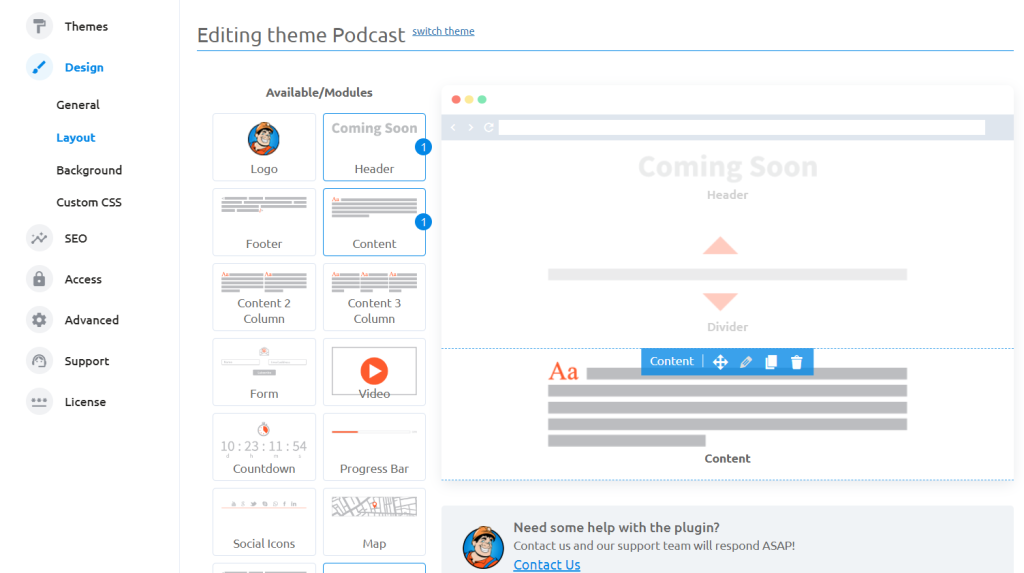 That can be achieved by going to Design and selecting Layout from the menu. After that, click on the content box and select the Edit Module option (pencil icon).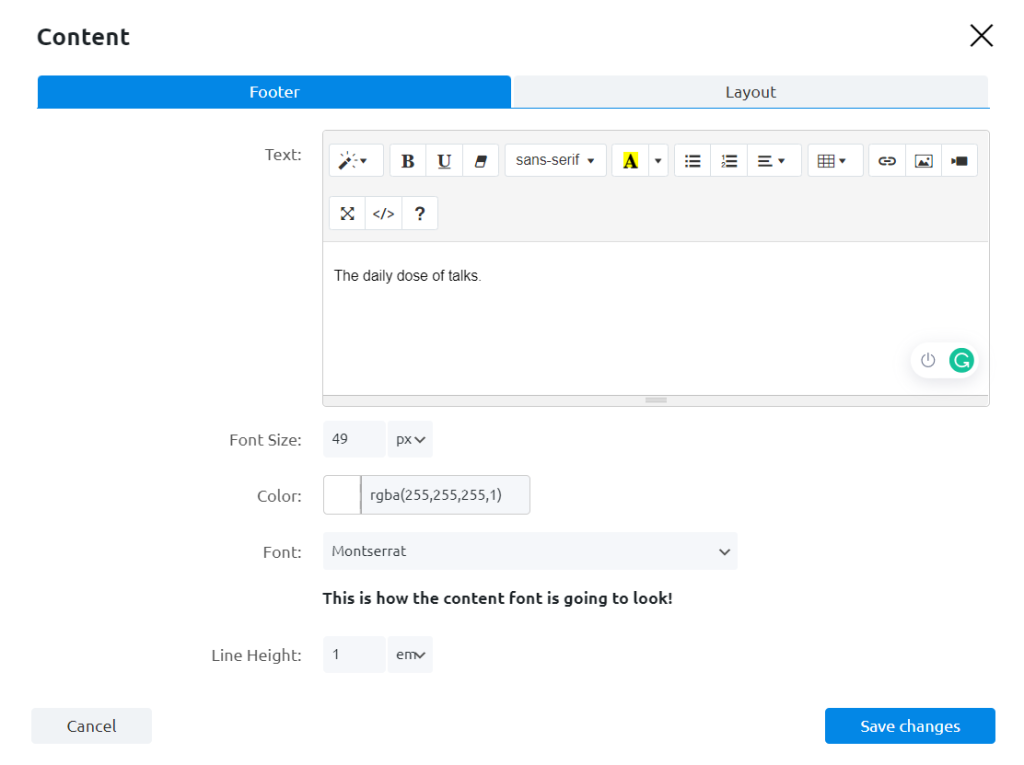 A new window will pop up, and from here, you can change the text of the content. Hitting the Save changes button in this window and the Layout tab makes the new content visible!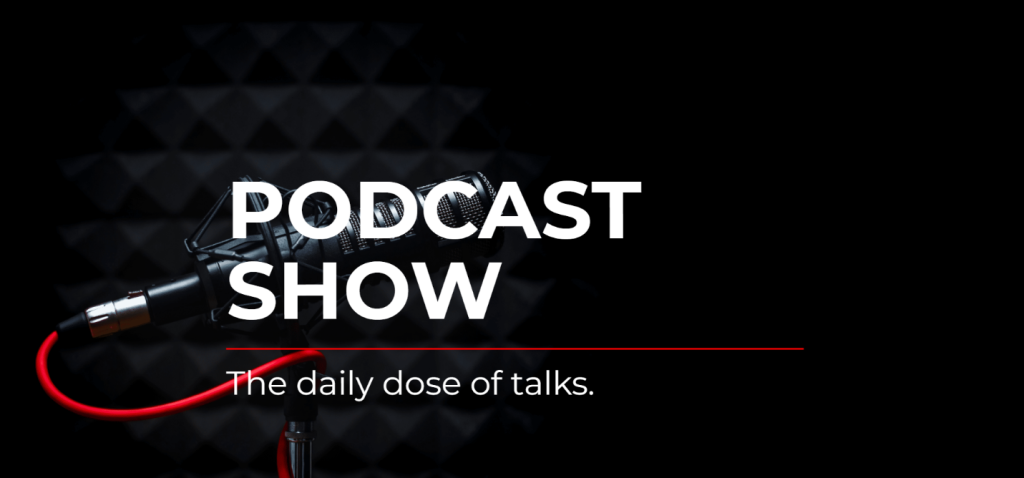 If you want to make your maintenance page unique, you can achieve this without hassle. Building your theme with an inbuilt theme builder is another feature of WP Maintenance.
Head back to the Layout of your theme and delete all of the elements, and start with a clean sheet. This will allow you to include any module you want to have on your maintenance page.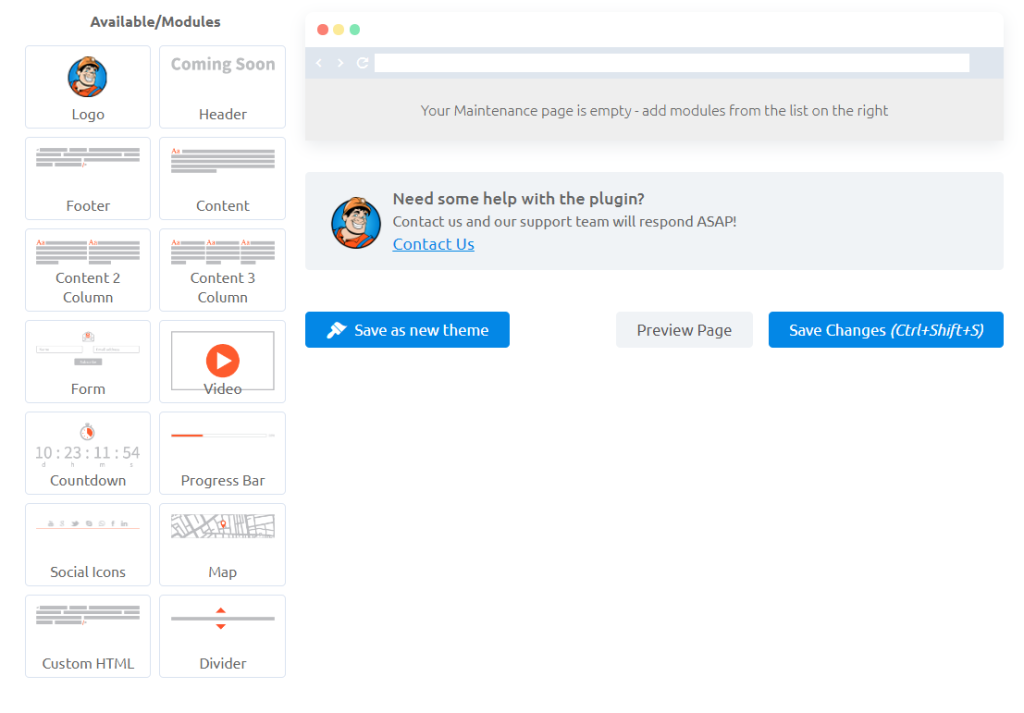 As you can see in the menu on the left, we have different modules that can serve all of the needs of the maintenance page. Dragging and dropping the modules on the grey area will trigger a pop-up window where you can style elements, add content, links, locations, and other details, depending on the module you selected.
Additionally, if you want to change the background image, you can click on Design and Background from the menu on the left. You can select a photo from the already mentioned photo gallery or even upload and edit your pictures! Once this is done, clicking Save Changes will make the changes visible.
If you want to manually add some of the stylings, you can go to the Custom CSS tab. However, this is only recommended to the users who know how CSS functions. If you don't fall in this category, stay with the visual editor available in WP Maintenance since it already offers most of the styling options.
Alternative solutions
WP maintenance is a great plugin that can be very useful, especially if you make regular changes to your WordPress website. However, it is essential to mention a few alternative solutions that can also get the job done.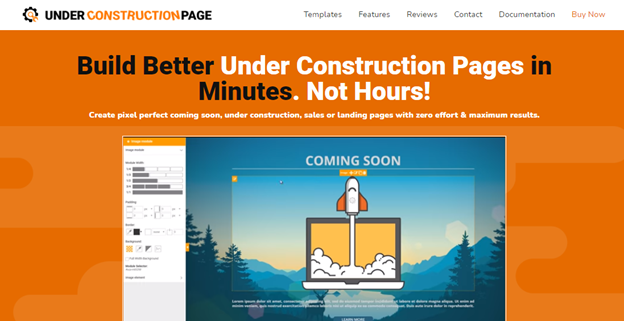 UnderConstructionPage is a plugin that comes with a similar drag and drop builder. Besides this, you have more than three hundred templates available. This plugin is a superb choice in the affiliate marketing niche since it has an affiliate and traffic tracking feature.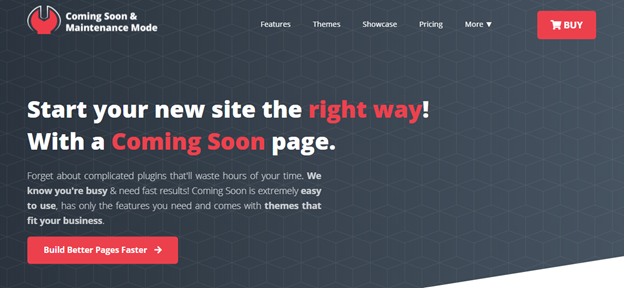 Coming Soon & Maintenance Mode offers a gallery of more than 170 beautiful themes that you can activate to serve information while adjusting your website. Highlights of this plugin are built-in SEO tests that can help you optimize your page for search engines even in the moments when you are not showing all of the content you have to offer.
Additionally, you can create secret links which allow access to the work in progress pages to the users who use these links. Webinar and marketing software are also features worth mentioning since they don't come with most similar plugins.
Final thoughts
Having something to show, even in the moments when you are working on your website, gives your website more credibility. Furthermore, it lets you keep an eye on your visitors and leaves the chance to redirect them to your social media channels or mailing lists.
If you are a freelancer or WordPress developer in a digital agency and are currently making a website for a client, it is a great idea to include a maintenance page in the scope of your work. This will make your client happy since they will know from the first moment that you care about their visitors and the long-term success of their business.
Having the flexibility to experiment with how you interact with the visitors and what you are offering them, even when the website is in maintenance, gives you better insights and new lines of communication with your target group. Use it wisely, and don't be afraid to play around with the Layout and unique modules of the plugin.
Getting the most out of this process doesn't need to take you hours of your time. Indeed, It can be accomplished in just a few minutes with WP Maintenance. Next time you decide to add new visual elements and functionalities or play around with existing ones, make sure you use this plugin to make your work as professional as possible.