WooCommerce is an eCommerce platform for WordPress. You will set up an online store to trade with physical or digital products and services with this platform. Also, if you're familiar with WooCommerce, you're aware that plugins and extensions can enhance its functionality.
Improvements within store management, development, and marketing are also included. Plugins designed for export or shipping, such as WooCommerce Order Export and WooCommerce Table Rate Shipping, are regarded as the most important for eCommerce after enabling online payment.
Cryptocurrencies are becoming more popular currencies for online payments. However, today, we will explain the benefits of plugins for WooCommerce online stores. eCommerce that will accept Australian crypto will have access to a global market. It will do cross-border transactions quickly, and they will have security via blockchain, and buyers will have complete anonymity available.
Further in this article, we selected a couple of plugins as the best WooCommerce Bitcoin and Crypto plugins for payment.
1. NowPayments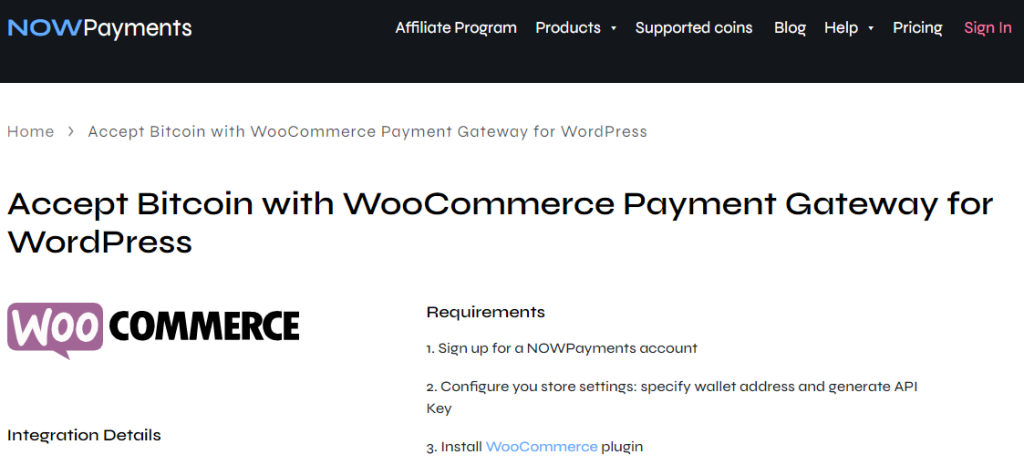 NowPayments plugin will enable and allow your WooCommerce site to start using crypto payments. It will make crypto payments available for your customers as they will only need to enter their wallet info to complete the transaction.
You will benefit from privacy and avoid the interaction of third parties when creating and accepting cryptocurrency payments. Because NowPayments is a non-custodial service, fees are transferred directly to your wallet. Gains that the NowPayments WooCommerce plugin provides are:
It enables your store to receive crypto
Transactions are fast, secure, and private
Special features on your store for special customers
Installation is of this plugin is easy
You'll need a NowPayments account, a wallet, and a WooCommerce API key to get started. Then, to begin accepting crypto payments, complete the installation process, and your store is ready to accept crypto payments.
2. BTCPay Server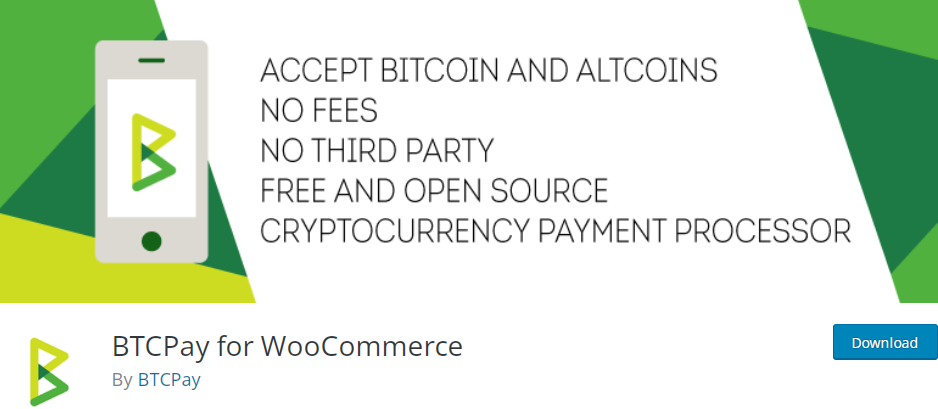 BTCPay Server is an open-source cryptocurrency payment processor. This plugin is a non-custodial invoicing system that eliminates the need for a third party. It will never upload your keys to the server. Furthermore, these are features of this plugin:
Direct, peer-to-peer payments
No additional fees (only mining fees by the crypto network will apply)
No processing fees
Complete user control over private Keys
Upgraded privacy and security and its self-hosted
LND and c-lighting support; ability to attach unlimited stores and Payment buttons
3. Blockonomics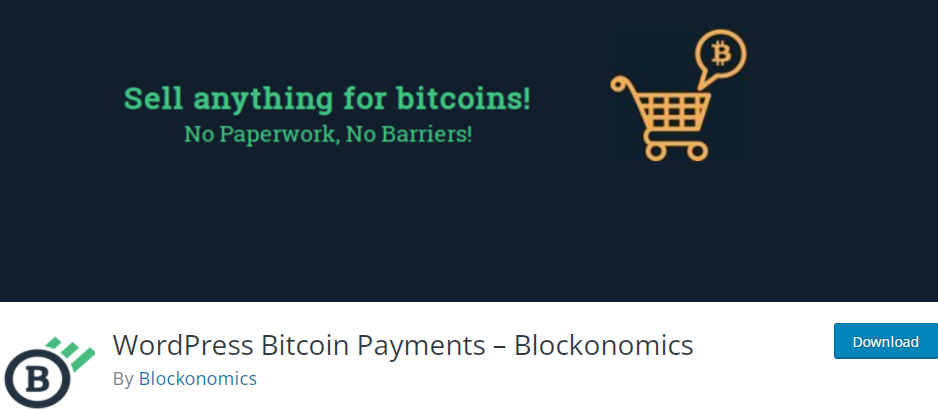 One of the easiest ways to start and proceed with crypto payment on your WooCommerce online store is by using the Blockonomics WooCommerce plugin. Since 2015, Blockonomics has allowed eCommerce sites to accept Bitcoin and Bitcoin Cash as payment.
Furthermore, this is a genuinely decentralized Bitcoin payment processor for WordPress. Instead of using a payment gateway with the Blockonomics plugin, purchases made on your website will directly transfer to your wallet. Blockonomics enables you to take control of your revenue.
There are no fees associated with accepting payments because there is no need to use a third party. Furthermore, there is no need for any approvals of API keys or any documentation requirements. You will exclude fraud and chargebacks with plugin secure and safe transactions.
It provides Segwit compatibility that enables you to have the lowest possible transaction fees. Also, Blockonomics accepts BTC and BCH and supports all major HD wallets, like Trezor, Blockchain.info, Ledger Nano S, and Mycelium.
With the help of a video tutorial, you will complete the installation in a matter of minutes, and you will have access to the best customer support team. Your website handles the entire checkout process, and its policy is privacy-friendly.
4. CoinPaymnets.net Payment Gateway

With this plugin, you will get a payment gateway for WooCommerce that lets your buyers pay with Bitcoin and other cryptocurrencies by CoinPayments.net.
However, this is open-source software that enables the use of the CoinPayments.net solution for digital currency payments. This payment solution accepts approximately 2K altcoins and is one of the most comprehensive multi-cryptocurrency platforms in the world.
It is estimated that nearly three million users and accounts are open and active in 182 countries.
5. GoUrl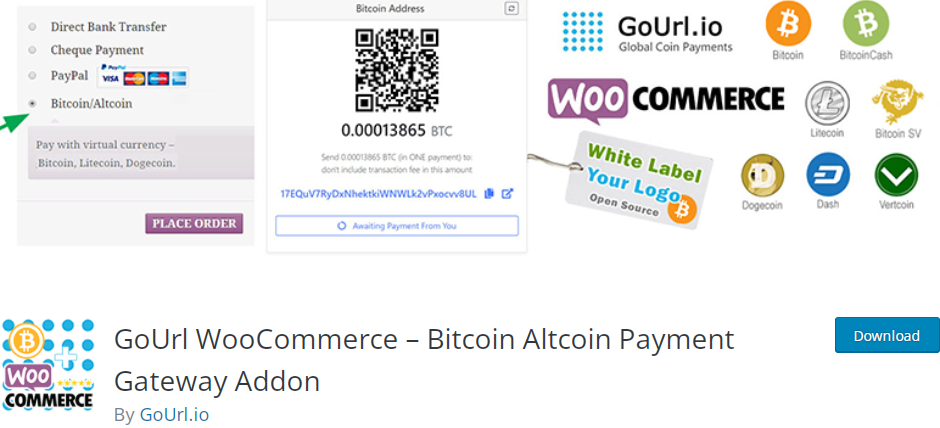 Features of the GoUrl plugin for WooCommerce are providing a Cryptocurrency Payment Gateway for editions 2.1 or higher. Open Source Plugin offers features like No Monthly Fee, No Bank Account Needed, Transaction Fee 0%, and it's all in automatic mode.
You will get direct integration on your website, as well as a mobile-friendly and customizable Payment Box. A White Label solution also displays additional crypto prices with a flat fee on a WooCommerce product page.
If you need to use other languages atop English, you can check options on their Language Transaction page. And above all this, there is Free Techs support for this plugin.
Conclusion
If you see a future for your WooCommerce store, install one of these plugins because cryptocurrencies are not only a future anymore but a necessity.
Once you have chosen a payment plugin, you should check out these two other extremely useful WooCommerce plugins that we recommend: WooCommerce Table Rate Shipping which is a very powerful plugin that can help you set up advanced shipping rules based on cart contents, weight, visitors logged-in status, and more, and WooCommerce Order Export which can export all your orders either as a CSV, in the format and with the data you need. It can also be automated to export your orders and have them emailed or FTPd, a feature that can be very useful for dropshippers.