One of the most crucial decisions for a small business' website is its host. Without a reputable provider, businesses will be incapable of delivering a quality customer experience, which may even drive customers away in rare cases. The question then becomes, who provides the best web hosting and at what cost?
Fortunately, strong site performance doesn't need to break the bank. Below, we provide a guide to help answer this question.
1. GreenGeeks
Since 2008, GreenGeeks has provided "eco-friendly" hosting solutions, supporting over 300,000 websites. As a green provider, GreenGeeks makes an effort to purchase wind energy credits to offset the energy used to power their websites.
Even for those who don't consider "going green" as one of their key deciding factors, the platform is considered a strong contender. Over the last year, GreenGeeks has maintained a history of solid uptime, of 99.96%. The site has also maintained an above-average server speed, ensuring a positive user experience for website visitors.
Also worth calling out is the team's reputation for strong customer support. The team continuously demonstrates a quick response time, enabling users to be connected to a customer support agent in minutes. GreenGeeks also boasts positive security features, including real-time security scanning of the SSL secure server.
All in all, there are a few cons to using the GreekGeeks platform, making it one of the best options for Canadian web hosting. Perhaps, the only drawback is the 30-day money-back guarantee which may not give users enough time to test the platform before deciding.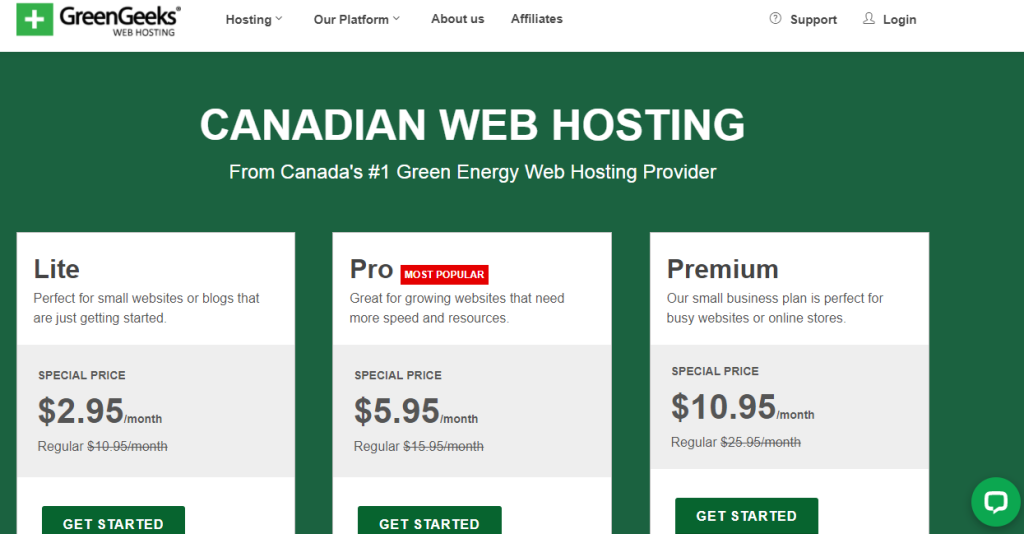 2. SiteGround
SiteGround has also proved itself to be a strong all-around performer in the hosting industry. Their platform has demonstrated positive uptime, readily available customer service, and many off-the-shelf backups with improvements that can further improve your website's performance.
The major caveat is that occasional limitations exist, some of which are features that other providers will typically offer for free.
For businesses that already have a website up and running, SiteGround also provides a free site transfer option that enables set up within a single click.
3. HostPapa
Next on the list is the Canadian-based company, HostPapa. HostPapa hosts over 500,000 websites across the planet, now providing several high-quality hosting plans. One of the platform's main advantages is the number of websites you can have per plan.
Even with a basic plan, hosting enables two site plans, with premium plans enabling unlimited websites, saving website owners a significant amount of money. HostPapa also offers benefits including unmetered bandwidth, a website builder, a free SSL certificate while providing the option for one-on-one training.
Despite the platform's feature set, site owners who have purchased beginner plans have reported slower site speeds than the more expensive plans.
HostPapa also offers a shorter money-back guarantee than its counterparts. This structure is standard; however, some customers may feel that they are not getting the most for their money.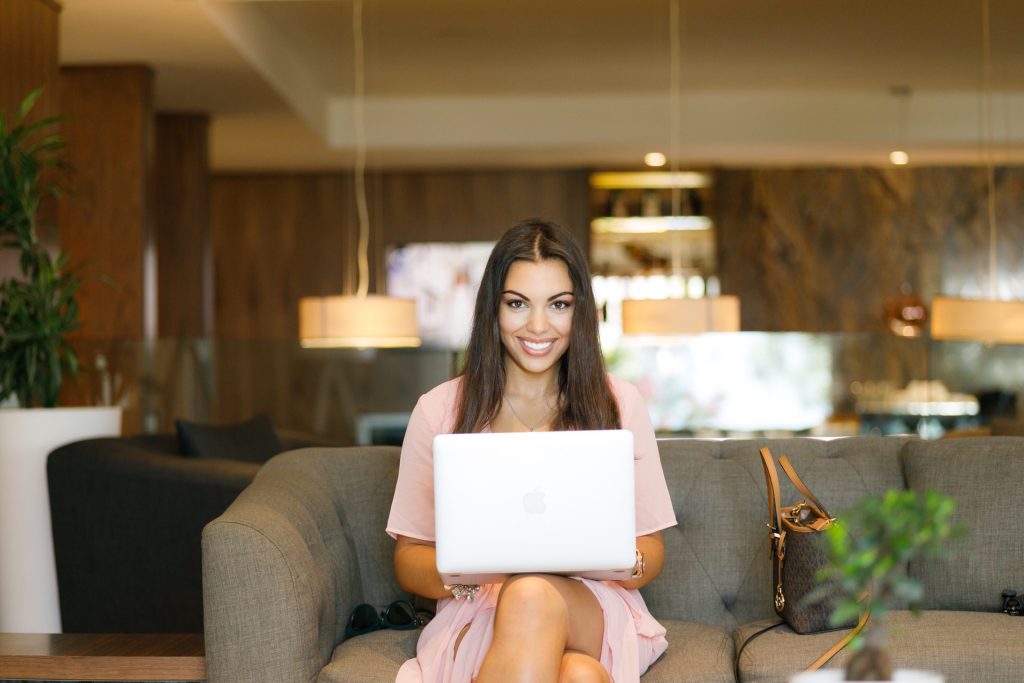 4. BlueHost
Bluehost is a globally-recognized web hosting company that enables shared and private options. Their plans offer free features with free SSL certification, domain names, strong bandwidth, and security. BlueHost plans come with built-in features that help limit the amount of tweaking needed to protect your website.
Additional security features can also be added, including CodeGuard backups for a small fee. Since this host provides these features in their offering, beginners often have some peace of mind.
Unfortunately, BlueHost does not have servers in Canada, which may impact your website's user experience, security, and searchability (SEO). Furthermore, none of the Bluehost plans will provide an uptime guarantee on their plans.
5. Kingsta
Kingsta has become well-recognized for offering a premium category of cloud hosting, excelling in terms of support, speed, free migrations, and advanced dashboards. Like, any premium offering, the main caveat is the cost.
For small businesses, Kingsta's offering may be out of your preferred budget at this stage of your website. For context, the most affordable Kingsta offering is nearly ten times more than some other options on the list. Kingsta's plan pricing may be a make-or-break decision for small businesses where every dollar counts.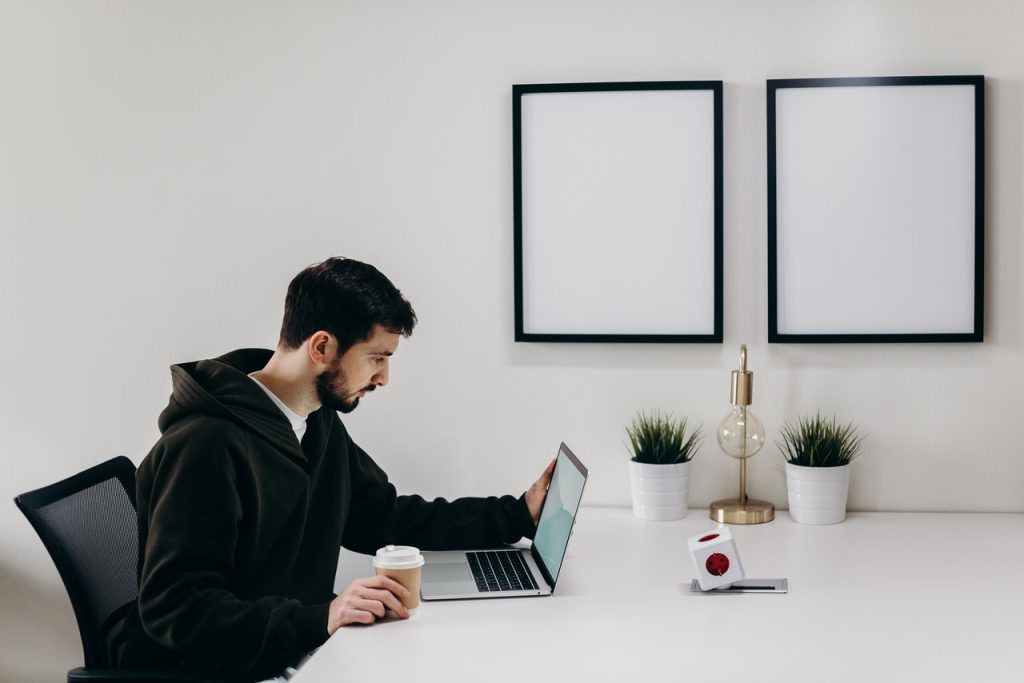 6. Hostinger
Hostinger is an all-around quality solution for basic features. Although Hostinger does not offer all the features some of the other plans provide, they provide a cost-effective solution to get started. Website owners will still access their money-back guarantee, a free SSL, and domain by purchasing the starting tier.
An added advantage of Hostinger is their website builder, Zyro, which includes a logo maker and AI content generator to help small business owners get started on their website build.
The bottom line
Determining the best web hosting for your business will then come down to weighing the pros and cons of each solution. Small businesses will have a good starting point to compare their options with the list above.