W3toys is a popular media downloading platform. Through this site, you can download Instagram multimedia such as posts, stories, or even highlights directly to your device.
Sites like these are in popular demand since Instagram does not allow its users to download their posts or anyone else's posts.
This whole process is entirely legal unless you use these photos for commercial purposes, of course. The site is pretty easy to use and is free as well. If you're not satisfied with w3toys and are looking for some alternative, I have provided a list of other websites you can check out down below.
W3toys Alternatives
IGVideoDownloader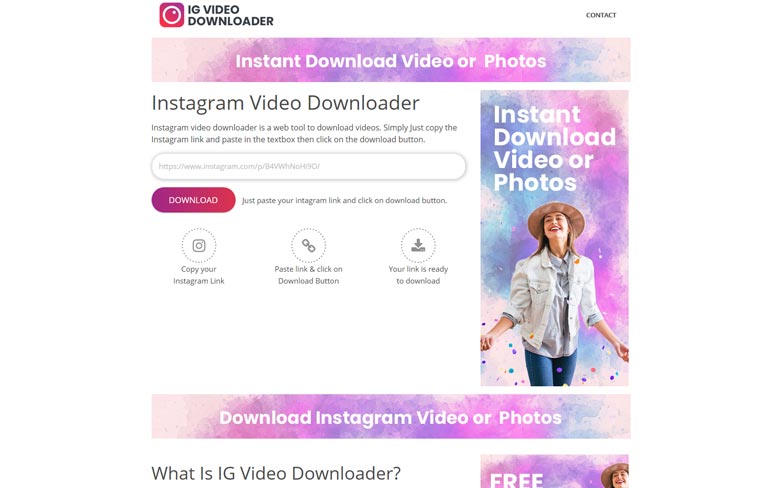 IGVideoDownloader is precisely as the name suggests; it is another downloading media platform for Instagram through which we can download media in only three steps. All you need to download the media is its URL link and just insert it into the given search bar, and it's as simple as that.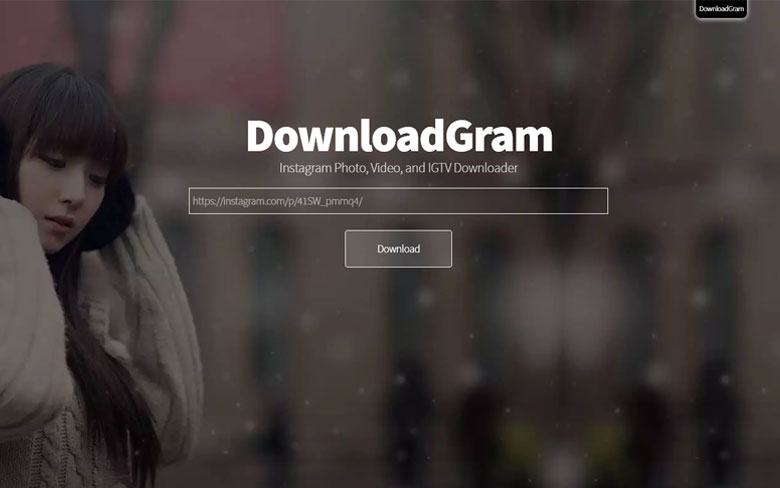 DownloadGram is also a proficient alternative, and this website provides a direct download option. Meaning we can download photos directly from Instagram.
All you are required to do is add DownloadGram to the bookmarks then browse over the picture you wish to download on Instagram and click download on the marker and done.
Dinsta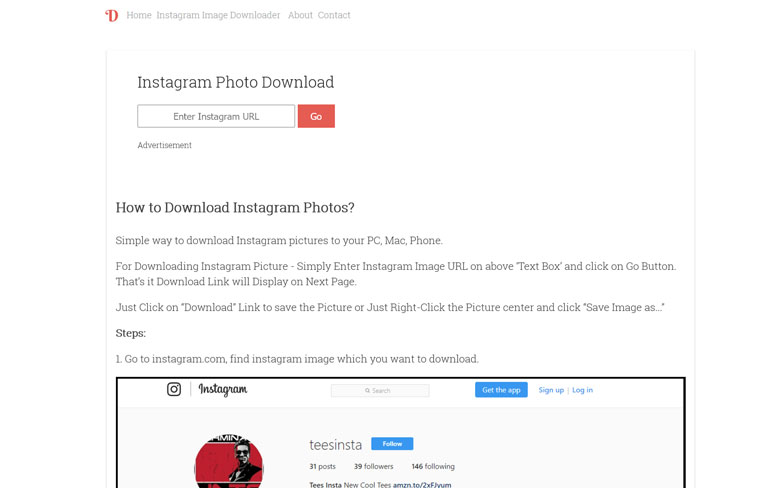 Dinsta is more simplistic than the previous websites we've discussed so far. It also offers the same features as others do. But unlike others,  it provides the user with another element i.e., Hashtag Image searching tool.
It means you can find photos with a specific hashtag and download whichever picture you desire from the search results.
InstaOffline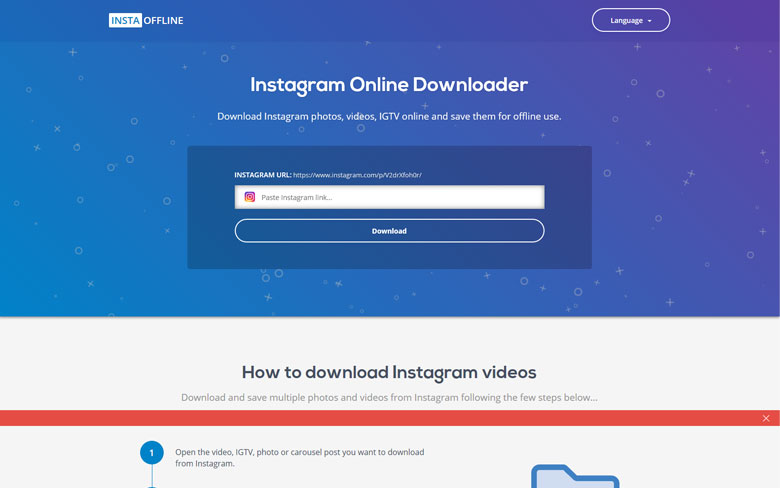 The feature which makes Instaoffline unique is its use of the offline mode, and you can download media from Instagram online, save them, and then use them later in offline mode.
Another feature this site gives the user access to its ability to download Instagram TV online videos. The website interface allows you to change the language as well, but the only other language you can turn to is French.
InstaStoriesDownload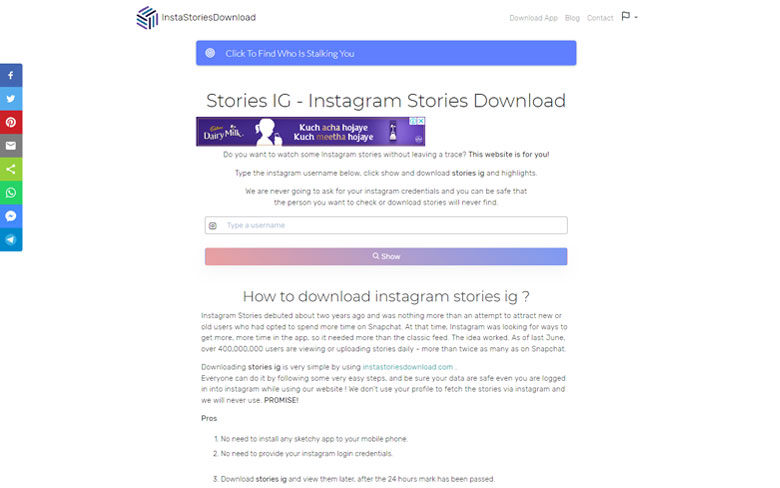 This website is used primarily for Instagram stories, meaning you can't download any photos or videos. This website does not make you copy anyone's URL or anything like that. All you have to do is simply enter the users, yours, or anyone else's Instagram ID.
The website will notify if they have posted any stories. If they have, it will give you the option to download the stories. Another feature of this site is that it gives you the option to be alerted when a particular user updates their story.
SaveFromWeb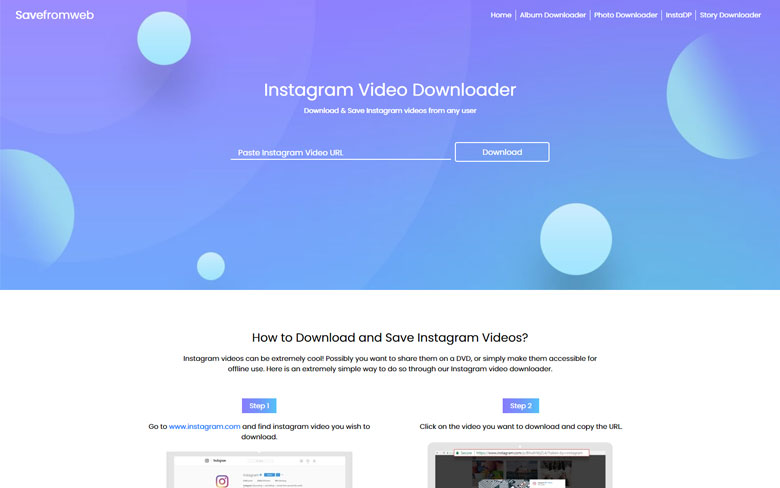 Savefromweb offers the user a comfortable user-interface; it displays the process in a step-by-step procedure using icons.
It also has an FAQ dropbox section on the bottom of the page for any query you may have about the site.
The site allows you to download photos, videos, and even whole albums as well. This site isn't direct and the user whose photos you which to download must have his account set as public as well.
InstaFollowers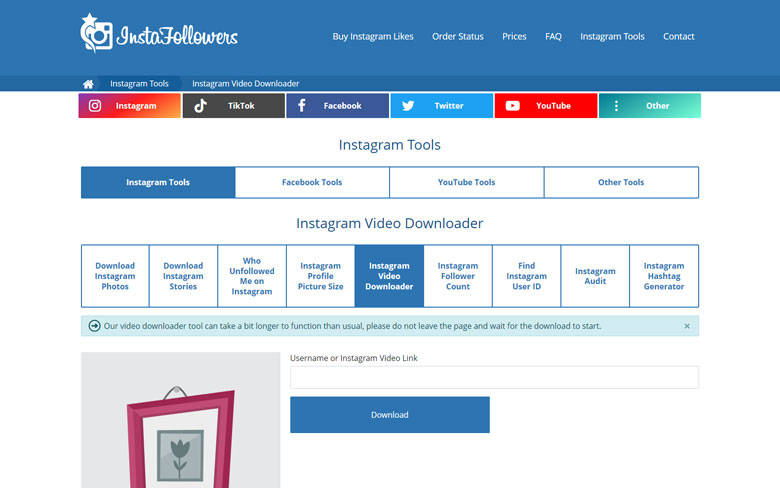 This website offers a wide variety of tools to be delivered. The tools consist of the media downloader, the "unfollower" check, The follower count, hashtag generator, etc. Along with Instagram, this site provides tools for Facebook, TikTok, youtube, and much more.
Most of these tools are free. But there are some which are premium as well, such as Instagram like function, with this tool, you can buy users likes on any of your Instagram posts.
You can buy followers as well, and the price depends on the number of followers you wish to purchase. The media downloading is free, although and requires no login or credentials.
InstaDownloader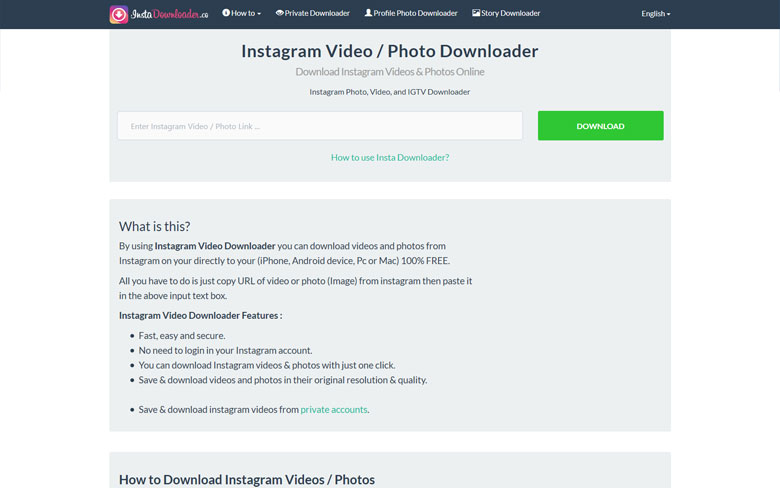 This site offers the base functionality as the rest of the Instagram downloaders discussed on this list. Still, its unique feature is that it provides anonymity, meaning you can download photos and videos from other users entirely anonymously.
This site does not require any credentials at all, and you can download the media in its original resolution.
InstaDownload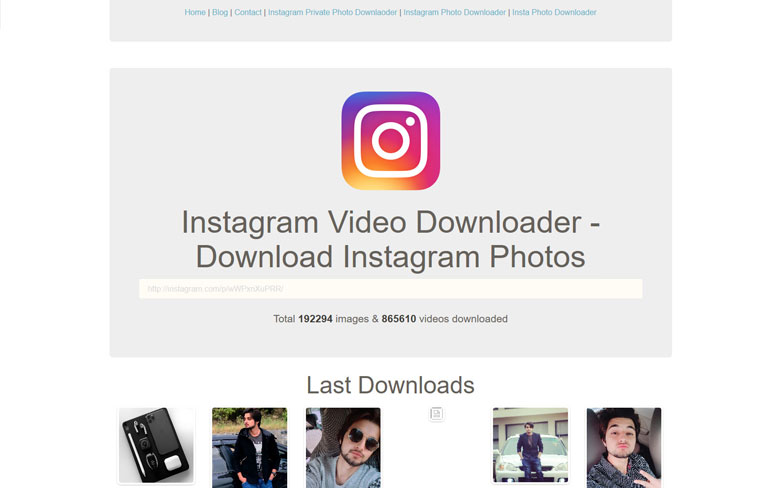 This website only offers Instagram video downloading, while it does have more options on its title bar, they don't seem to work, but maybe will be accessible in a future update.
This website is as easy to use as the rest of them. All you need is a URL and for the account to be public so the site can access it, and that's pretty much it.
InstaView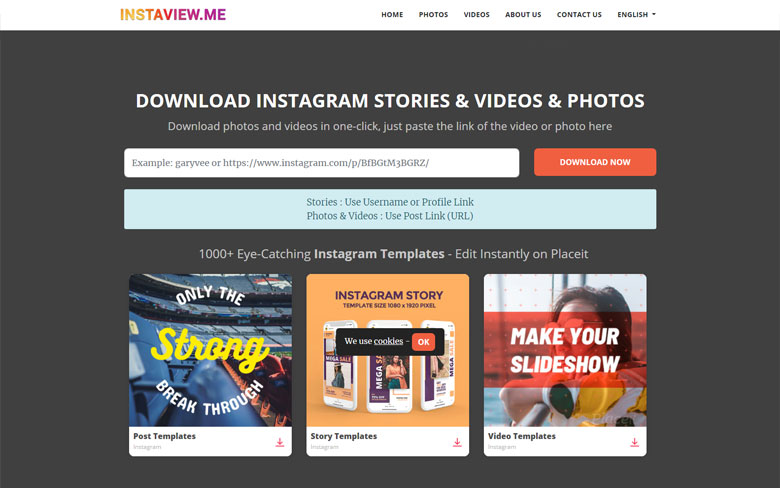 This website offers media downloading of photos and stories along with videos as well, and you can download this media through URL.
Still, this site also provides you the function to download through username, you only have to input the profiles ID, and if it is public, you can download their story. But Instaview also offers templates. You can use these templates on your posts, videos, and stories.
InstaDownloaderPro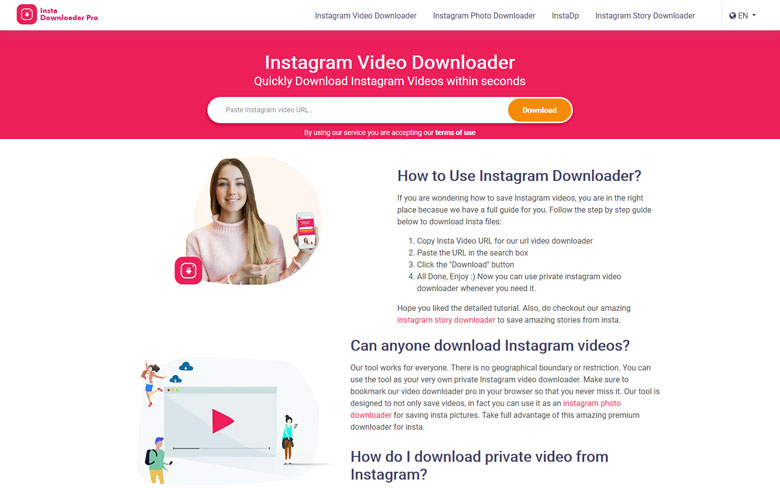 This website provides all of the primary options of any other Instagram media downloading platform, but the feature that makes this website unique is its access to private Instagram accounts.
With this website, you can download posts from a private account as well, all you need is the posts URL, and the site will download the media regardless if it is public or not. This website also offers a feedback option to improve its functionalities further.
DownloadInstagramVideos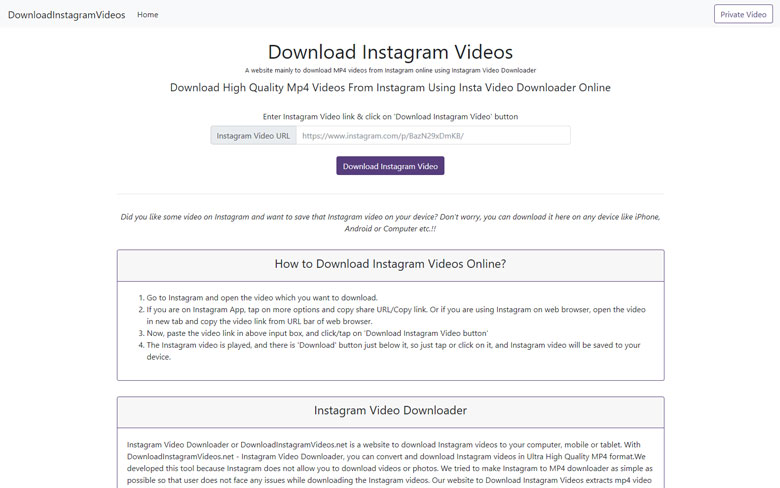 This website is very minimalistic. It only provides one text field and not much else. You only have the option to download Instagram videos. This website also gives you a private choice, and you can download private videos by providing the video page source.
InstaVideosDownloader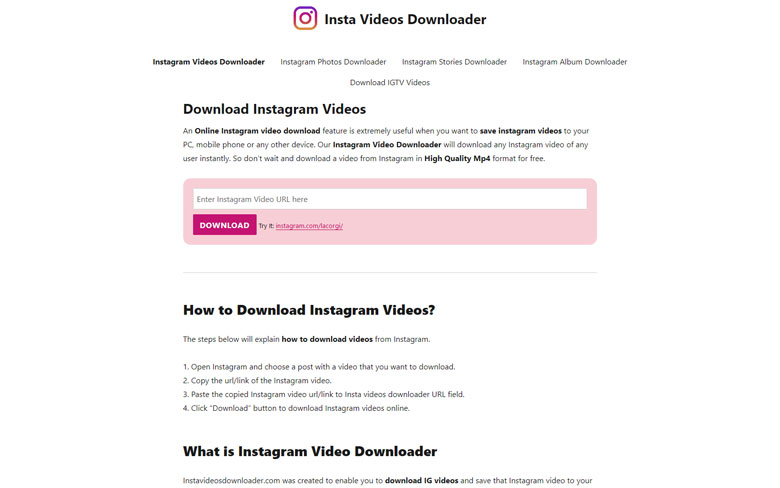 This online tool offers protected account video downloading. You can download posts and stories as well, but for those, the account has to be public.
You can download photos individually or in bulk. In case, you don't have the URL for the posts you want to download, you can just input the Instagram user account instead.
InstagramDownloader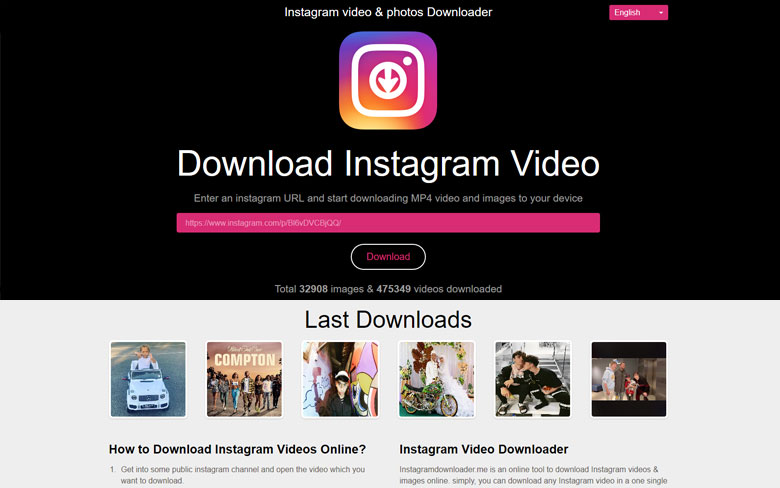 This site offers functionality for both photos and videos. The instagramdownloader provides a recently downloaded gallery, a gallery of all the photos recently downloaded pictures of other users on this platform.
It also shows you a collection of the images and videos you have downloaded from this website. The website contains links to its social media platforms so that you stay updated on the new features.
It also offers a print option so you can print downloaded images from the site, The interface provides different language options.
Igsave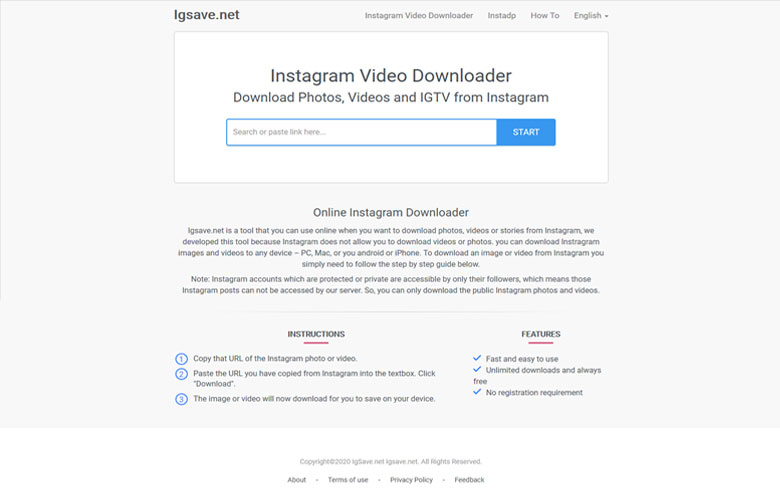 Igsave provides the user with multiple sharing features. You can share media links with your other users through the mail, Facebook, Twitter, and other platforms offered by the website. This tool is fast and easy to use, allows unlimited downloads, and does not require any registration at all.
Conclusion
Instagram lacks the feature to enable the user to download even their photos, so to overcome this barrier websites like these are necessary.
In this article, we talked about different websites you can visit to download your media from Instagram and the features they provide. Hopefully, you can find the site best suited to your needs from the ones I've enlisted.