Old School RuneScape is a pretty old title, as it was released back in 2013. However, even though the game is older than a decade, millions of players still play it. But as it is an old title, a lot of new players often struggle to perform well in it. They are unable to figure out plenty of stuff, and this makes them lose interest in the game. If you are one of them, then you will benefit a lot from our guide, as we are going to mention a couple of sites that can help you out.
Old School RuneScape is a pretty huge game where you can go on adventures. Quests are a big part of the game as they can help you earn different rewards and meet new characters as well. Furthermore, there is plenty of other stuff to do as well, such as finding treasure, unlocking achievements, earning in-game currency, and so on. However, all of this can get complicated for players who are new to the game. Therefore, you need to take help from sites that are meant for Old School RuneScape players.
Old School RuneScape Fandom
To get better at Old School RuneScape, you need to learn about everything the game offers. You need to get familiar with the game's mechanics, the map, the quests, and everything else. This will not only help you get better at the game but will also allow you to progress through the game smoothly without any kind of hurdles. For this purpose, we recommended visiting Old School RuneScape Fandom.

If you need to learn anything about the game, Old School RuneScape Fandom has got you covered. They are the main hub for the game as their creators have done a remarkable job with putting every piece of information on their website. The best part? Everything is properly organized. The layout of the site has been designed while keeping the ease of users in mind.
Take achievements for an example. There are plenty of achievements that serve as challenges that you can complete. Upon completing these achievements, you can earn rewards that can not be found elsewhere in the game. On Old School RuneScape Fandom, you can find information about each achievement, including how to unlock it.
Overall, Old School RuneScape Fandom is a great site. If you are having trouble completing a certain quest, they have an entire section for them as well. Thanks to it, you can quickly complete quests and earn multiple rewards.
SkyCoach
Next, we have SkyCoach. This is one of the best sites when it comes to services. While the website we mentioned above focuses on giving out information to users to help them get familiar with the game, SkyCoach focuses more on different services.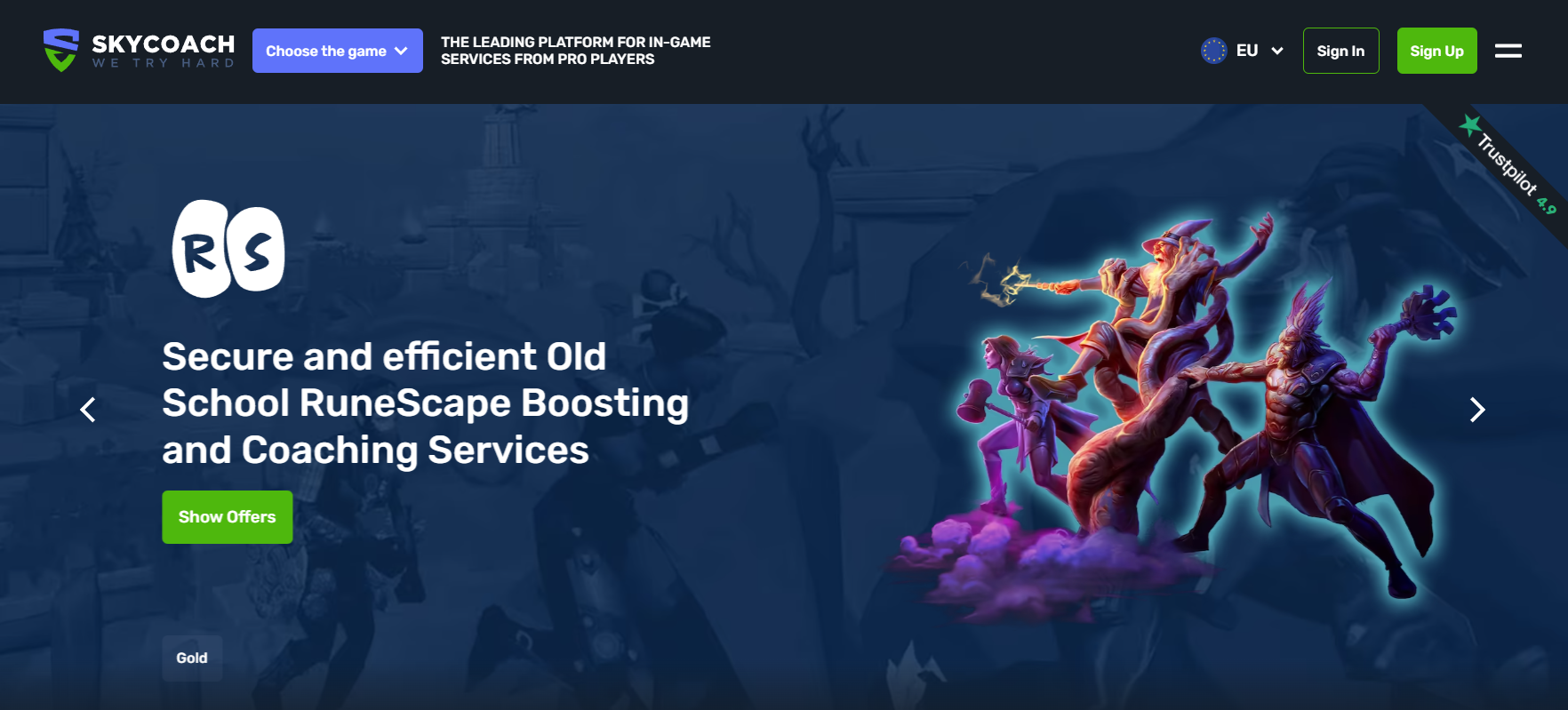 For those who don't know, gold is a big part of Old School RuneScape, and every player wants to get tons of it. It serves as the in-game currency, and you can buy useful items with it. The more gold you have, the smoother your experience is going to be. Unfortunately, earning tons of gold in the game can take you quite some time. In fact, some players spend months before they can gather a significant amount of gold. However, if you are willing to spend some money, SkyCoach can help you get rich quickly.
SkyCoach has a service called OSRS Gold, and by using it, you can quickly get tons of gold added to your Old School RuneScape account. The minimum amount of gold you can purchase is 10 million, and this can be increased all the way up to 1000 million. However, keep in mind that the higher the amount of gold, the more it is going to cost.
Overall, if you are looking for a fast way to increase your gold reserve in Old School RuneScape, then you need to opt for SkyCoach. Their customer support service is also extremely good, and they will respond to you quickly if you have any questions.
Old School RuneScape Wiki
The third and final site on our list is Old School RuneScape Wiki. This is yet another website on our list that can help you learn a lot of stuff about the game.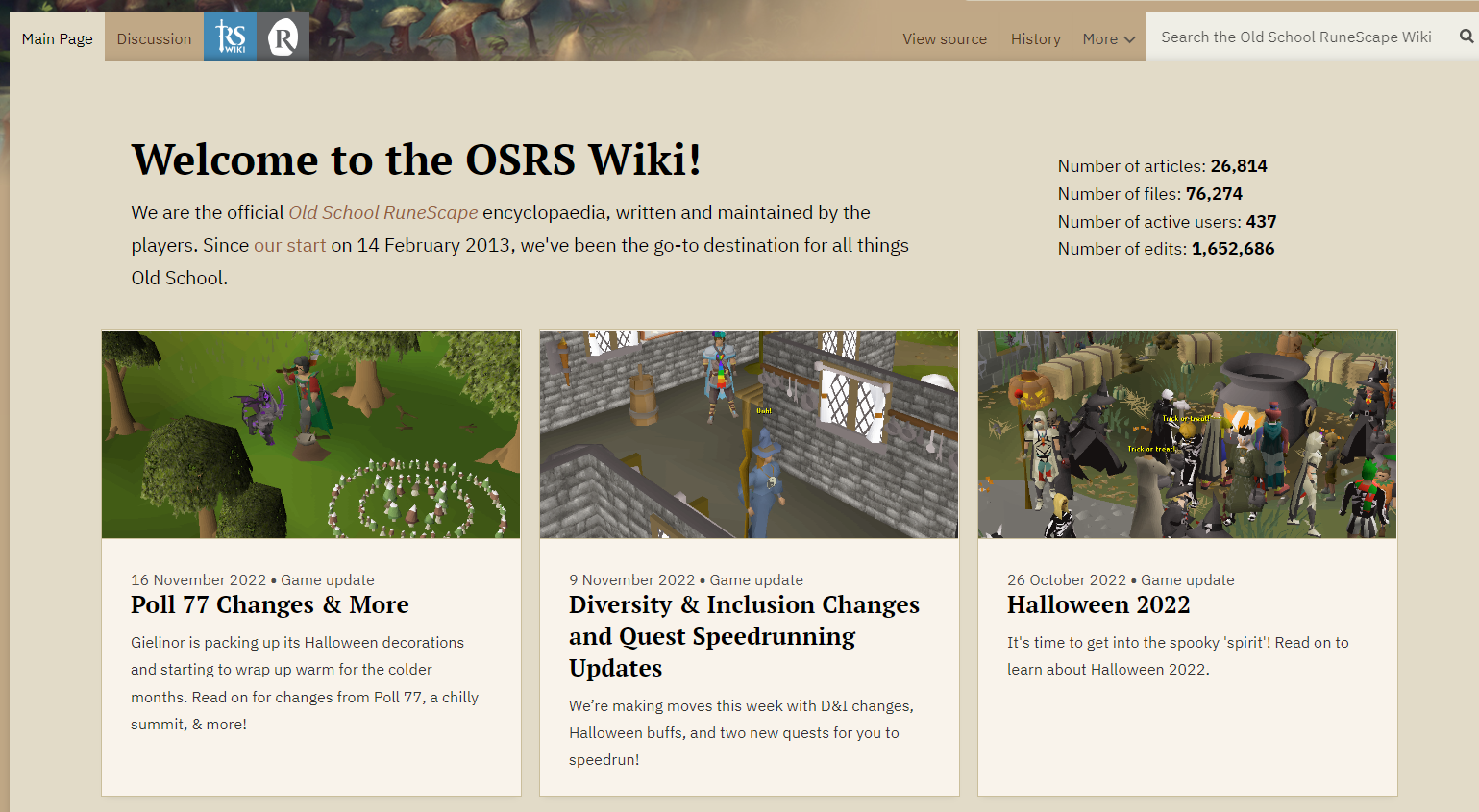 If you find that there is something on the first website that we mentioned, you can always try looking for it on this one. Overall, Old School RuneScape Wiki has a well-designed layout, and you can find whatever you are looking for easily.
Conclusion
And there you have it. We hope that these three sites will help you become better Old School RuneScape players. As you can see for yourself, all three sites are pretty amazing, and they can help you learn a lot about the game. Furthermore, the second one can help you with getting different services through which you can speed things up. In the future, if we find any other site or if a new site comes to the surface, we will make sure to let you know.