In need of a personal color laser multifunction printer? Or perhaps a light-duty shared printer for a small office setting? The Samsung C460FW driver can fill both roles. The C460FW sure does offer a lot for a multifunction printer, as our review of its features and specifications below will show you.
Features of the Samsung C460FW Driver
Compact and quiet
At 16 x 14.3 x 13.1 inches, the Samsung C460FW is on the smaller side for a color laser multifunction printer. It takes up little space. Plus, it works quietly, with less than 48 dBA sound levels.
One-touch wireless setup
Press the Wi-Fi Protected Setup button on the router and the Samsung C460FW. The printer will then configure and connect to the wireless network automatically.
Eco button
The Eco button enables you to lower your running costs as you can customize the output to your liking.
Mobile printing ready
Using the Samsung Mobile Print App, you can print, scan, and fax from your Android, iPhone, or iPad. No computer is needed.
Specifications of the Samsung C460FW Driver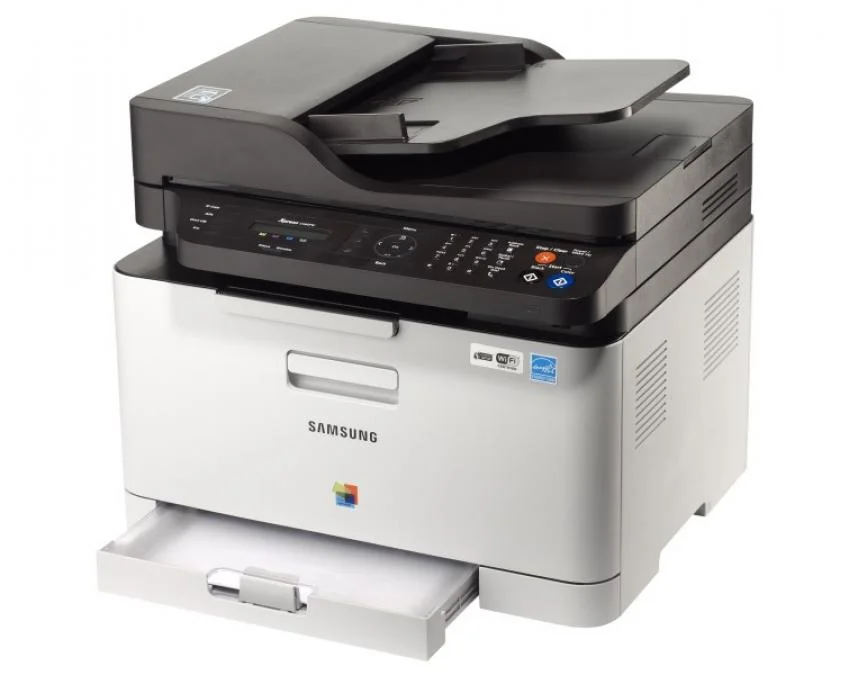 Overview
The C460FW is a color laser multifunction printer manufactured by Samsung. It has 16 x 14.3 x 13.1; not necessarily compact but is small enough. Besides the small footprint, it is also light, weighing only 30.8 lbs.
The C460FW offers both wired and wireless connectivity options and supports mobile printing. It is capable of handling various media types and sizes.
Connectivity
The C460FW has three connectivity interfaces: USB, Ethernet, and Wi-Fi. It also has a Direct Wi-Fi feature and supports an NFC connection, allowing you to use the printer wirelessly without any hassle.
Print
The Samsung C460FW uses laser printing technology with a maximum resolution of 2,400 x 600 dpi. The printer can print up to 19 pages per minute for black prints and four pages per minute for color prints. The Samsung C460FW driver has a duplex printing feature, but it is manual and requires guidance.
Scan
It uses a Color CIS image sensor and supports up to 600 x 600 dpi optical resolution and up to 4,800 x 4,800 dpi interpolated resolution. The scanner types are flatbed and ADF. The maximum scan area for the flatbed is 8.5 x 11.7 inches, while the ADF is 8.5 x 14 inches.
Copy
The copier can produce 19 black copiers per minute and four color copies per minute. Its copy quantity ranges between 1 and 99. The copier can reduce and enlarge from 25% to 400%. Its maximum resolution is 1,200 x 1,200 dpi.
Fax
The fax has a transmission speed of 3 seconds per page and up to 33.6 kbps modem speed. It is compatible with ECM and ITU-T G3. It has a memory of 5 MB. The supported resolutions are 203 x 98 dpi for standard, 203 x 196 dpi for fine, 300 x 300 dpi for superfine, and 200 x 200 dpi for color.
Paper handling
The printer has an input tray with a capacity of 150 sheets, an output tray with 50 sheets, and an automatic document feeder (ADF) with 40 sheets.
It can work with various paper types and sizes. For paper types, it can work with plain paper, thick paper, thin paper, pre-printed, label, card stock, glossy, cotton, colored, and recycled.
As for paper sizes, the size range for the input tray is between 3 x 6 inches and 8.5 x 14 inches, while the size range for the ADF is between 5.6 x 5.8 inches and 8.5 x 14 inches.
Conclusion
Whether you need a personal multifunction printer or a light-duty shared printer for a small office setting, the C460FW is a good option. The Samsung C460FW driver is compact, quiet, easy to use, and mobile printing, among many others. With the C460FW, you can do all your tasks hassle-free.