Online Alarm Apps
For those who find it hard to get up every morning and run late for their college, office or appointments, the use of some of the best online alarm apps is certainly advisable. Yes, you don't have to hit that snooze button every morning and then go back to sleep if you can choose the best online alarm apps around. Here we have listed some of the best you can find on the Play Store and they really work too. So, let's check out what they're all about.
1) Alarmy: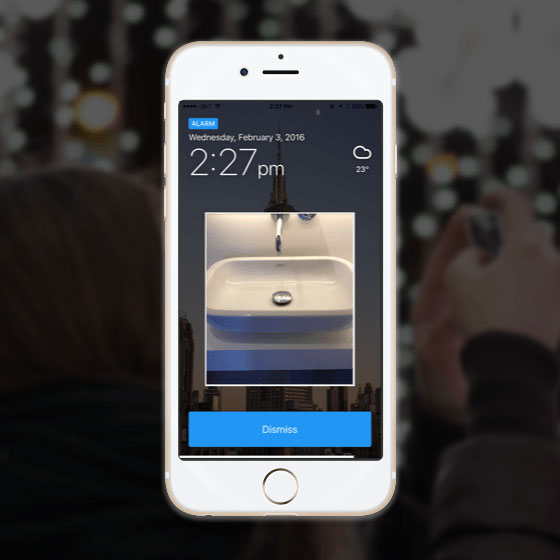 If you're a regular snoozer or happen to turn the alarm off to fall asleep again, Alarmy is your perfect online alarm clock and you can always rely on it as well. Being touted for most annoying of all alarm clock apps available to Android users, Alarmy takes a unique route to wake you up every morning. The app necessitates the users to complete a puzzle or a task for turning off the alarm every morning.
Each of the challenges has a certain difficulty level as well and you can choose according to your own preference as well. If you're a stubborn sleeper, you can set it to hardest difficulty level so that it doesn't stop until you actually wake up and are out of your bed.
2) I Can't Wake Up: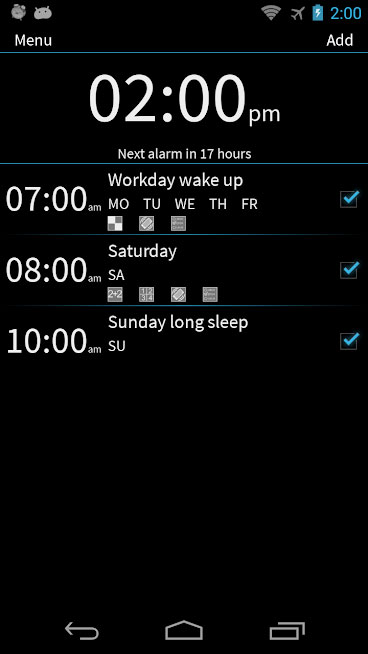 In case, if you're like that too, this is the app that you should rely on. The app comes equipped with eight unique wake up tasks which make sure that you are not able to turn the alarm off before you can actually complete them. These tasks are categorized into Order, Memory, Math, Repeat, Shake, Match, Rewrite and Barcode. The idea is to alert your mind enough so that you may not fall asleep again. The app comes with a very basic user interface but the features available actually compensate for that. It's very good at what it is meant for and you can very much count on this app for that.
3) Puzzle Alarm Clock: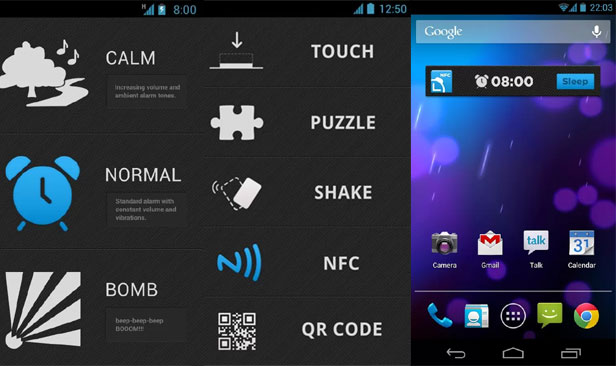 You may not be happy with your smartphone's stock alarm application because it doesn't take the harsh route to wake you up. If you're looking to find that extra boost for forcibly making your mind to wake up, this puzzle alarm clock can actually do that for you. It comes with four different challenges that are actually enough to get you up and running. They include Retype Text, Math Equation, remembering the Shape Sequence, and solving the Maze.
On medium and easy levels, you're only allowed to take on 5 puzzles at most and then you have to go harsh on that sleepy brain of yours. If you're still able to sleep again after solving the puzzles, you can enable the 'Wake-up Poke' feature as it will ask you to prove yourself being awake even 5 minutes after dismissing your alarm.
4) Sleep As Android: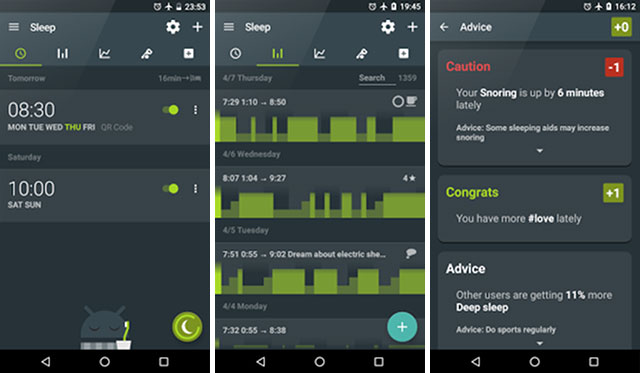 Primarily, it is sleep tracking app for the Android users. The app first studies your sleeping patterns right through the night and then analyzes them. Based on that analysis, the app wakes up the subjects at the best possible time using a gentle sound for the alarm. For activating the sleep tracking feature of the app, you have to put it into sleep mode before placing your smartphone on the mattress.
There are different options that you can use to set up puzzles and tasks like other apps on the list. What sets this app apart, however, is the fact that you can integrate it with your wearable gear like Android Wear, Optional Pebble, Google Fit, Galaxy Gear, Samsung S Health, etc. You can even integrate it with Philips Hue smart bulbs and Spotify as well.
5) Android Alarm Clock: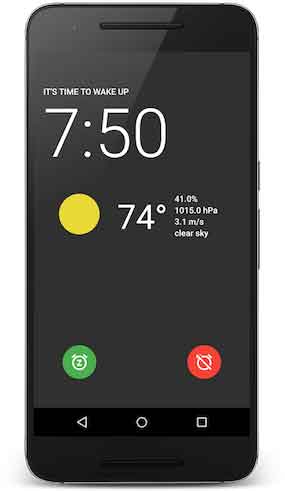 Yet another free and useful alarm clock app for the Android users, it allows heavy sleepers to set up several alarms as well as completely customize them so that it can gently wake you up. The app comes with a visually pleasing interface design with dark theme while the settings of the app are really flexible as well. Besides being able to set up the wake-up challenges, this app is capable of disabling alarms automatically on the public holidays simply by syncing it through the calendar.
The location awareness of the app makes for yet another remarkable feature of this app. What that means is, it can actually figure out your location for preventing stray alarms from going off if you are at your office or a restaurant, for example. The app also tracks your snoozing time for cutting it down. For heavy sleepers, there's a pre-alarm feature that helps you wake up gradually and activates the sleep tracking feature for the bedtime notifications, etc.
So, pick up one of these best online alarm apps and, believe it or not, each of them will eliminate your early morning woes quite effectively. You'll never run late for office in future for sure. Just try it out.