MP3Juices is one of the world's biggest music sharing websites on the web that allows you to download songs from different platforms such as Youtube, SoundCloud, etc.
This site offers you a complete database of almost every song in the industry, it's up to you if you wish to download the music file or just listen to it online.
If you feel like Mp3juices is not for you, then luckily, there are other music sharing platforms out there that offer the same functionality.
Down below is a list of some substitutions you can use instead of MP3Juices.
LoudTronix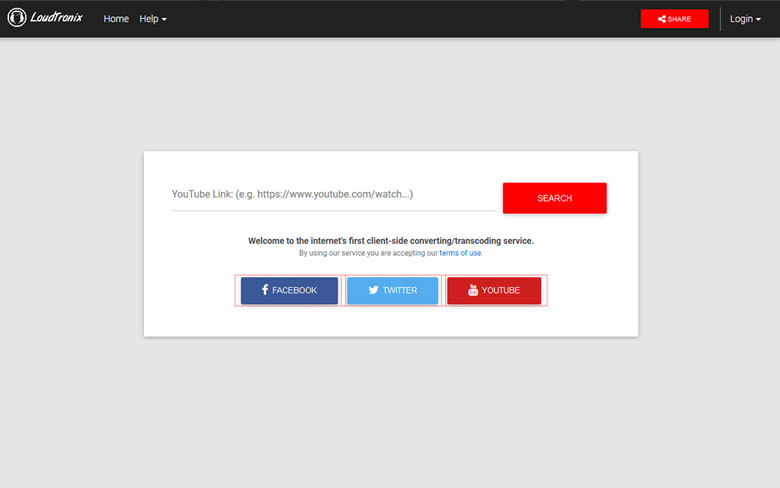 Loudtronix is your basic free mp3 converter and is very simple to use. You just need to copy the link of the song you want to downloads from youtube, sound, etc. Then paste the link in the text bar provided.
After pasting the link, the site gives you the option to either download the mp3 or watch the video(if a video is available). LoudTronix offers unlimited downloads and a converting and transcoding service as well.
Audiomack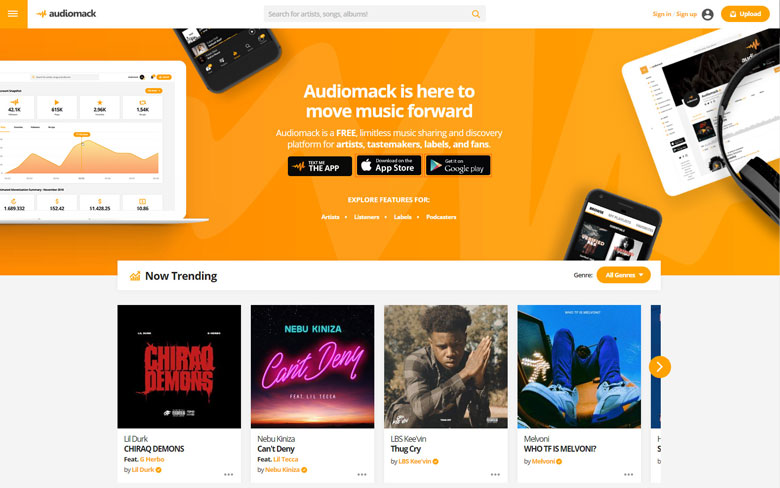 The most prominent feature of Audiomack is its user interface; the front page is dynamic and very attractive at first glance. All the songs are categorized on the main page.
Different categories available are Now Trending, Verified playlists, Trending Today, and so on. This enables the user to browse different songs and explore new playlists effectively.
Audiomack allows you to share your favorite songs on Facebook, create your own playlist, add your liked songs, and follow top artist playlists.
Gaana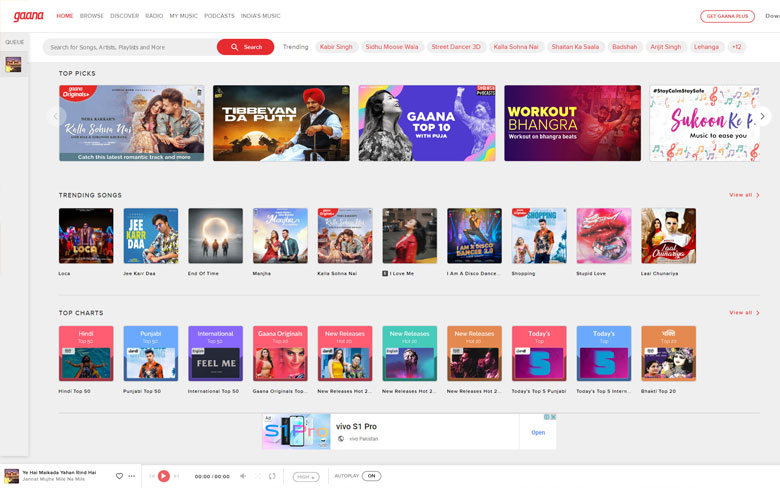 It is the most famous music downloading sites, especially in Asian countries, The reason for this popularity is that it offers not only English songs but also Hindi, Punjabi, Telugu, and more.
Equipped with a user-friendly interface, Gaana allows you to filter your searches and download selected songs instantly.
A mobile app version is also available to download as well; this app contains all of the features of the desktop version with no limitations.
The only drawback of this site is a common problem with most free platforms; it is the constant bombardment of ads.
Jamendo Music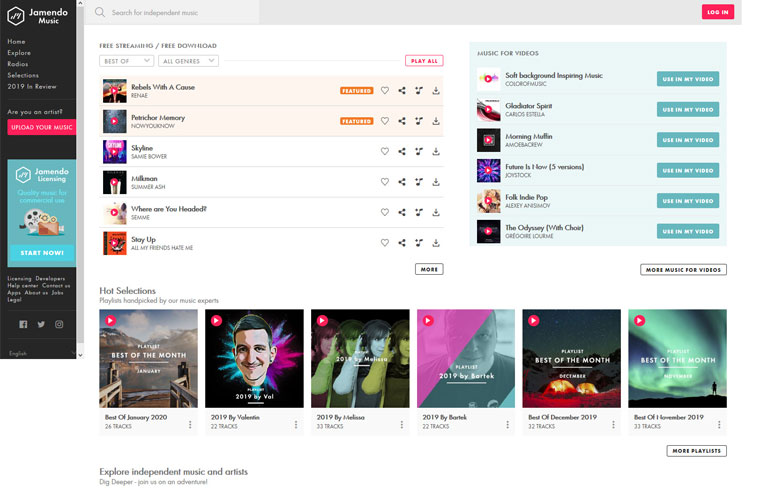 The best part of using Jamendo Music is that, not only is it free, its also absolutely legal thanks to Creative Common License. You can search for your favorite songs and download them instantly without the need for links or URLs.
Jamendo offers a explore page that showcases different artists, communities, genres, and playlists. It also enables you to share your favorite songs on various social media platforms such as Facebook, Twitter, etc.
Jamendo also has a "Year In Review" section, which highlights the previous year's most popular albums, artists, and songs.
MP3Clan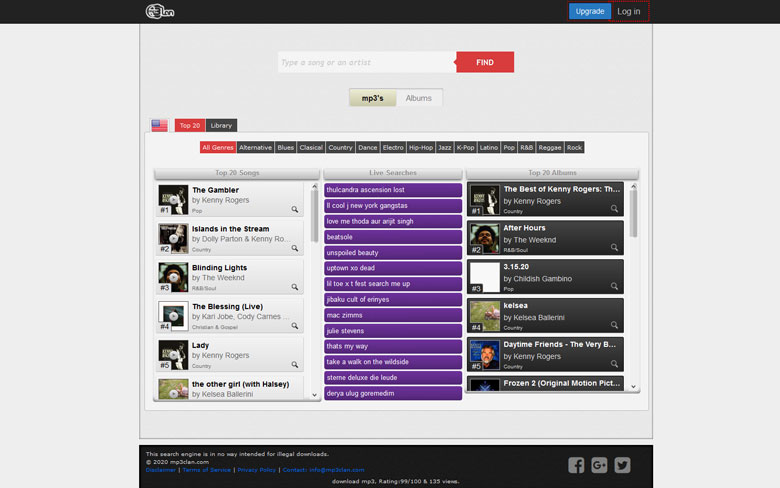 MP3Clan is one of the older media downloading platforms, with its domain being changed in the past as well. This site offers both streaming and downloading functionalities to the user, with a wide array of songs to choose from.
Before selecting a song to download, you also have the option to preview the song as well. The previewing option plays a small snippet from the song.
The most prominent feature of this website is its trimming functionality, It offers the user the ability to trim songs and use the trimmed output for message or caller tones.
MyFreeMp3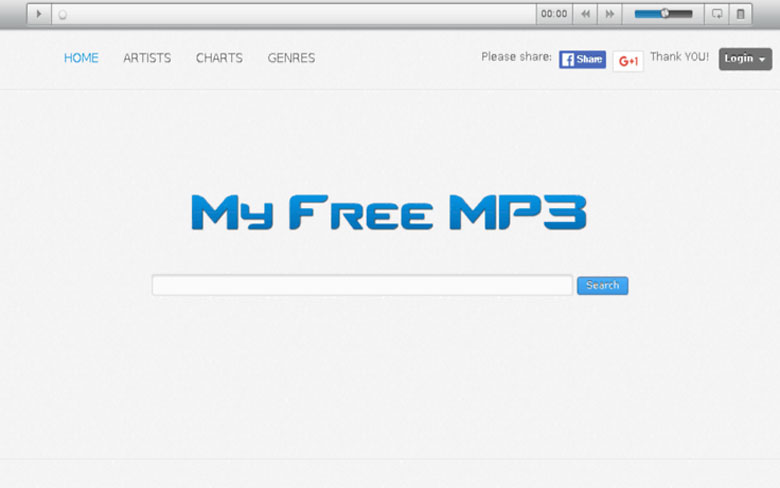 This site is not as popular as the others on this list, but it still offers the same core functionalities. There are no limitations when it comes to downloads, and there hasn't been an issue with the site crashing as of yet either.
The user-interface is pretty simple and easy to understand. The site is a typical link downloading media platform with no other functionality other than downloading.
MP3Bear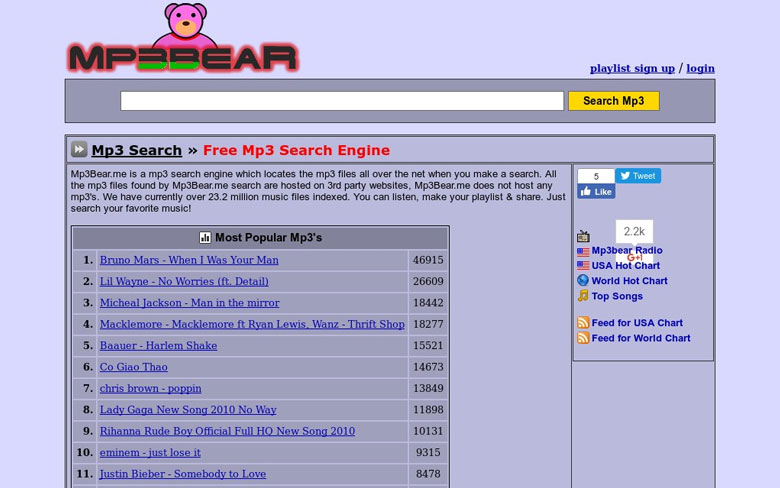 MP3Bear is one of the original music downloading platforms on the web. It has a new interface, which is, on their own," Designed to make everything better."
You can search albums and artists in the search bar and then enables you to download any of the results it offers. In case the current domain is' not working, it's not a problem because this site has a handful of other backup domains available.
FreeAllMusic
This is one of the newer platforms available. It offers the most original music available even before most websites. You can download entire albums at a time or individually, it all depends on the user.
If you can't find a specific song on the database, then the site also allows you to request fresh music. The drawback of this site is that you cant download music directly from the website. You have to access the mirror link provided.
BeeMP3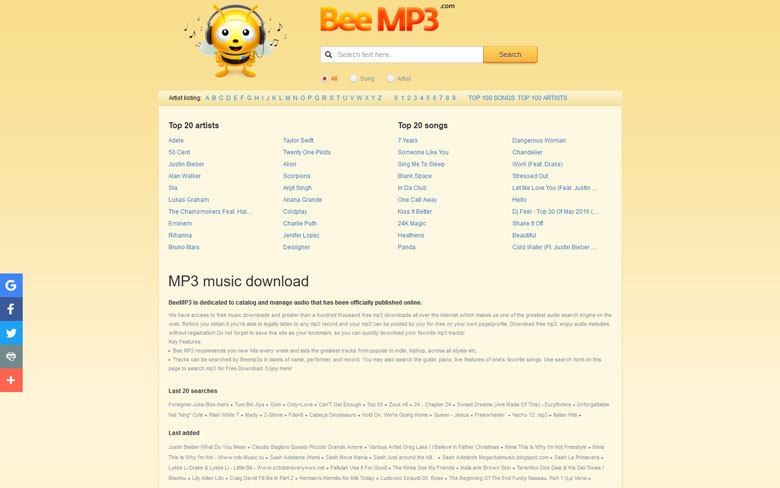 Beemp3 has been operating for almost a decade now. It has proved itself to be one of the most reliable music downloading platform to date.
Because of copyright claims, songs get removed from the site from time to time, But to combat this, thousand of songs are added to the website each and every day.
Unlimited downloads with no restrictions absolutely free. That is what this website offers.
MP3Skull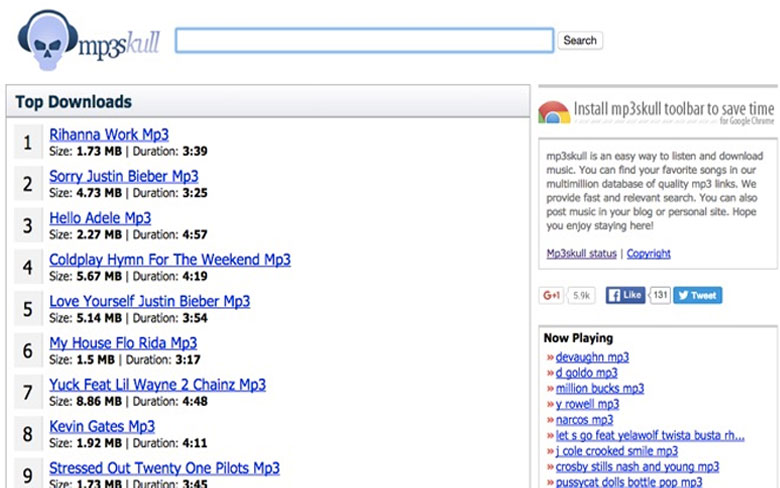 MP3Skull is a real veteran website, first launched in 2010, it has survived many takedowns, but it is still going strong.
The most prominent feature of this website is its searching capabilities. MP3Skull does not search the entire sentence word by word like other sites. It seeks according to specific keywords and the sequence of terms. It then displays the results based on its popularity.
Before downloading the song, the site displays a brief description and even a sample to ensure you download the right file. The resulting download can be presented in different formats as well.
Final Thoughts
The need for music downloading platforms has been around for decades now, this demand has been answered by multiple websites, the best of which are enlisted before you.
MP3juices is not the only music downloading platform out there. Through this article, I'm sure you can find a proper substitution.