Windows 10 is a very advanced platform for customization. A very popular and visually important example of this is the numerous varieties of unique themes. Like any other Windows, you have the chance to change your Desktop theme with something different and strikingly appealing.
It depends on you whether you want to stick with Microsoft's official installed themes, or do you want to do a little creativity by installing your favorite themes. Windows 10 is a versatile platform, and it allows its users to install pretty much anything if it pleases them. Just like that, you can install your new themes and add them to Microsoft's collection of themes.
Pre-Installed Themes and User Installed Themes
Windows 10 compatible themes cannot be found anywhere. On Microsoft's official website, the collection of themes will not be vivid. On the other hand, best-customized themes can be found on various popular sites, which include DevianArt – A place where independent artists create their designs.
You cannot install customized themes by default. You first need to know about the restrictions Microsoft has allotted to the themes section.
How to Download Microsoft Themes
On the official Microsoft website, a lot of new additions have been made to please the users. The new collection of themes is much better compared to the previous boring ones.
The themes on Microsoft's official website are aligned in categories. Each category displays a sample of what you need to expect from it. For those of you who have multiple screens, a panoramic view will be best.
Here is how you should download themes from Microsoft's website:
Go to Microsoft's official website.
Discover your favorite theme.
Download the selected theme from the official website. The themes are not that heavy so not much of your space will be consumed.
Close the website tab and go to your Desktop.
Right-click on a space on your Desktop.
A small menu will appear.
Click on the "Personalize" option.
The control panel will appear.
On right side of control panel, click "Go to Themes."
After it opens, select your downloaded theme. If the above steps are followed correctly, your downloaded theme will appear in the available themes section.
When you have selected, click the "Use Custom Theme" option and your theme will be applied to the Desktop.
Other than downloading themes from Microsoft's official website, you can download themes in an alternative way as well. However, the alternative way does not offer much variety.
Open the Start Menu of Windows 10
You will find an option that allows you to discover new themes – it is found below the apply a different theme option.
After clicking on it, a different theme will be downloaded from the MS store.
The next steps are similar to the ones mentioned in the above procedure.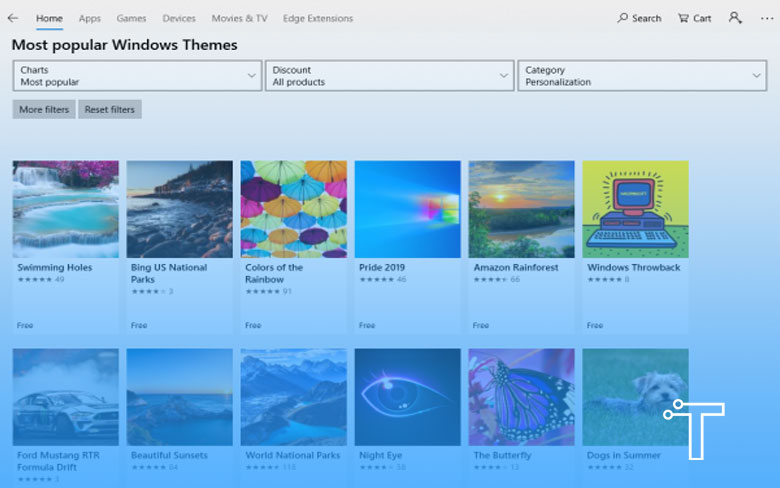 Other Themes
Other than Microsoft's themes, there are some third-party themes available as well. However, there are not many creators for third-party themes. On the other hand, you can find some third-party themes on the MS store, and they are very easy to install compared to the installation process from Microsoft's official website.
Warning
You must make sure that the themes you download are particularly for Windows 10.
Whenever there is a need to customize the Windows 10 settings, the operating system of this Windows is not much versatile.
It is recommended to avoid third-party themes because they might pose a threat to Windows 10's software.
Conclusion
It is not complicated at all to install customized themes on Windows 10, but there are precautionary steps that one must take to inquire about safe installation. The unofficial websites offer a variety of themes, but they are not always safe. Keep that in mind and enjoy installing new themes to your Microsoft's collection.