Samsung's ML-4510ND is a monochrome laser printer built to simplify your office tasks. Coming with a compact and robust design, this model has abundant features to redefine your printing experience. Just download and install the Samsung ML-4510ND driver before getting started.
The ML-4510ND helps support your business by improving the quality of your formal documents. Enjoy clear and accurate output without compromising your budget, thanks to reliable tools brought to your table. Get to know more about printer features and specs below.
Samsung ML-4510ND Driver Features
1. Rapid Printing
Samsung's ML-4510ND highlights high-speed printing to promote efficient tasks. Getting your printing job done is only a matter of a minute. Less time with the printer means more time to develop yourself. Why bother using the sluggish printer and sacrifice your precious time?
2. Auto 2-Sided Printing
An ADF is a crucial driver to convenient duplex printing. With this feature, you can print two-sided documents without user intervention. All you have to do is adjust the setting and let the device do its job. Not only can you save time, but you can also save energy and paper.
3. Super Large Input Capacity
Designed as a heavy-duty printer for high volume, the ML-4510ND is equipped with an extra-large input capacity. It has two input tray options: a standard input tray and a multipurpose tray that supports different paper types and sizes. Feel free to work with formal documents or creative projects.
4. Trouble-Free Connectivity
Get rid of the connectivity issue with the ML-4510ND. This model depends on wired connectivity and a network that allows you to establish a robust and reliable connection with other devices. Of course, you won't experience so much trouble with it.
5. Extraordinary Duty Cycle
The duty cycle indicates how powerful a printer is. This machine is rated at 150,000 pages per month, which is considerably large for medium businesses. Even if you have busy days, this printer can easily tackle it. Just get a Samsung ML-4510ND driver and prove it yourself.
Samsung ML-4510ND Driver Specs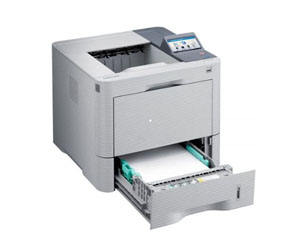 1. Dimensions
The ML-4510ND measures 14 x 16.4 x 17.1 inches (HWD), making it a compact design that won't consume a lot of space in your office. Though it weighs about 50 pounds, which is quite hefty for transport, it won't make your workplace look cramped.
2. Print specifications
This model relies on laser technology to deliver accurate and precise output for your business documents. Combined with high resolution up to 1200 dpi, you may expect sharp black and highly legible text. Even it works well for graphics, charts, and pictures.
3. Print Speed
Samsung rates this product at 43 pages per minute. This speed rating is incredible for daily printing tasks in your office environment. With such print speed, you can save time and focus on expanding the business. 
4. Paper and Media Handling
Using this powerful printer, you don't need to reload paper frequently. Thanks to super capacity that holds up to 520 sheets of paper. Besides the standard input tray, it is equipped with a 100-sheet multipurpose tray.
There's a wide range of paper sizes compatible with this product. It supports popular paper sizes like A4, Officio, Letter, Legal, Envelope, and postcard. It also supports custom sizes for your creative projects.
5. Interfaces
Hi-speed USB and network come standard in the ML-4510ND. You may expect a reliable connection without significant problems with such connectivity options. It also promises an easy connection setup so you can use this device immediately.
Conclusion
Bring your printing experience to another level with the Samsung ML-4510ND. This particular printing machine is designed to support convenient printing, thanks to a wide range of features brought to the table. Download and install the Samsung ML-4510ND driver to make it work optimally on your computer.