The world has forever changed since the introduction of online streaming services. These services provide content to users. Compared to television, these networks allow users to access content anywhere, at any time. The world's leading online streaming service is Netflix.
Netflix is a production company based in California, USA, which provides streaming services to its users. It successfully operates in more than 190 countries, having nearly 200 million subscribers.
The world-famous company works on the monthly subscription model. After paying a small subscription fee, a user gets access to a variety of movies, television series, documentaries, and more. It features the content of numerous prestigious production houses, as well as its own original content.
Netflix works on numerous electronic devices: computers, mobile phones, tablets, and smart televisions. It also includes a safe service for children, where they can stream appropriate content.
This widespread network provides a massive amount of exciting content. Moreover, it provides millions of users with ad-free streaming. This is one of the sole reasons why Netflix is highly popular worldwide.
According to statisca.com, out of all internet users, approximately 37 percent are Netflix users. With such a massive fan base, high net worth is definite. If you want to know more about Netflix and its revenue, continue reading the article.
Initial Stages
In 1997, Marc Rudolph and Reed Hastings founded Netflix in California, USA. The company was created with the idea to sell and rent DVDs by mail. It was created as a competitor to Blockbuster Video, which was a well-known movie rental company then.
Later in 1998, Hastings decided to continue with only the renting business. The next year, Netflix introduced the concept of a monthly subscription, instead of the one-time rent model. This innovative concept meant that there would be no due dates or late fees charged to the users.
With the change to a monthly subscription, Netflix began to prosper and earn vast sums of money. In 2003, the company made a massive profit of $6.5 million.
Co-founder Marc Rudolph retired from the company in 2004. Three years later, a revolutionary change brought Netflix countless benefits.
Online Streaming & Benefits
In 2007, Hastings introduced online streaming services in the USA. In simpler terms, an online streaming service means video-on-demand through the internet. This move turned out to be highly useful for the company.
This idea came from Amazon's online streaming service, Amazon Video. Only three months after Amazon Video's creation, Netflix launched its own online services. Another competitor, Hulu, was launched in 2008. To this day, Hulu and Amazon Video are two of the biggest competitors of Netflix.
Nearing the end of the decade, Netflix continued earning massive incomes. In 2010, Hastings began to launch the online service in other countries. He started by introducing the service in neighboring countries, starting with Canada.
The expansion of online services brought Netflix significant advantages. In 2011, the total digital revenues for Netflix were nearly $1.5 billion. In 2013, Netflix had 40.4 million subscribers all over the world.
At the end of 2018, Netflix had reached 137 million subscribers worldwide, ranking as the best online video service.
What makes Netflix different?
There are numerous online video service providers, but Netflix ranks above them all.
One of the distinguishing aspects of Netflix is its recommendation system. This system brings users the content of their liking. In this way, the less known movies are made accessible to viewers. This system not only proves to be of great worth to Netflix but also to the underrated production studios.
In 2016, Netflix added a feature to allow users to download content. The users can watch the downloaded content later offline.
Another feature that makes Netflix unique is its original content.
Original Content
The main reason for Netflix's massive value is its quality content. Netflix features its own original content, which has brought the company valuable profits and awards.
In 2013, the network's first original content, House of Cards, was released. House of Cards is a drama series surrounding American politics. The series is known to have a large fan base worldwide.
The same year, Netflix partnered up with Marvel Television to produce Marvel superhero television series. These series include the famous Jessica Jones, The Punisher, and more.
Besides live-action content, Netflix features original animated series as well. An example is the critically acclaimed BoJack Horseman.
Moreover, the company has produced several standup comedy performances, including Kevin Hart and Ellen DeGeneres. Netflix also produced a series called Comedians in Cars Getting Coffee. The series features the beloved sitcom actor from the 1990s, Jerry Seinfeld.
Movies distributed as Netflix's original content include The Lorax, Dumbo, Alice in Wonderland, and more. Another original movie is The Irishman, which features two of the greatest actors: Al Pacino and Robert DeNiro.
Many of the network's shows are loved worldwide, such as Money Heist, and Stranger Things. Netflix has not only produced new television shows but has renewed old ones as well. An example is the renewal of the sitcom Arrested Development.
Famous production companies license their content to Netflix, leading to an increase in Netflix's revenues. For example, Netflix earned $20.2 billion last year.
Awards
As the world's top online streaming service, Netflix has countless awards and nominations.
At the 65th Primetime Emmy Awards held on 22nd September 2013, Netflix made history.
That day, three Netflix series, House of Cards, Arrested Developments, and Hemlock Grove, earned 14 nominations alone. House of Cards won the first webisode Primetime Emmy Award for Directing for a Drama Series.
Later that year, the company earned 6 Golden Globe Award nominations. In 2014, Netflix was nominated for 31 Emmy awards. Most of these nominations were for House of Cards, and Orange Is the New Black.
Furthermore, at the 2017 Primetime Emmy Awards, Stranger Things earned 19 nominations.
At the 90th Academy Awards in 2018, Netflix film Icarus won the award for Best Documentary Feature. The same year, Netflix broke HBO's record of most nominations at the Primetime Emmy Awards. Netflix scored 112 nominations, more than HBO's 108 nominations in 2001.
Next year, at the 91st Academy Awards, the network received 15 nominations, including Best Picture for Roma.
Netflix Earnings & Net Worth 2021
The world-famous streaming company earns most of its income from subscription fees. The higher the number of users, the higher the revenue. Netflix increases the subscription fee after some time, leading to an increase in income.
The net worth of Netflix is estimated to be approximately $193 billion, which is fully justified. Deals with production companies and television networks have contributed significantly to this massive number.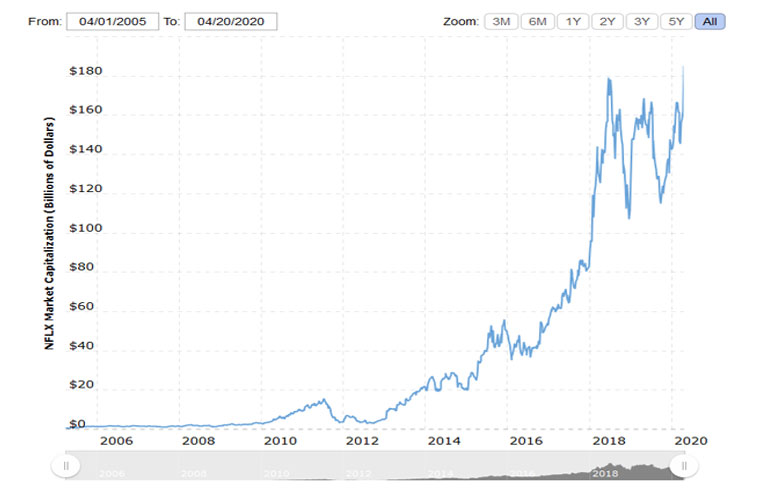 Final Words
Netflix's ability to follow the technological changes and provide an excellent customer experience is what makes it distinguishes from other online networks. Keeping in mind its quality content, it is inevitable that the company's net worth will significantly rise in the future.