Amazon Web Services or AWS is the fastest growing web hosting provider in the world. It focuses on providing high-end cloud computing solutions that are flexible, reliable, and provide incredible scalability at affordable costs.
Considered the leader in cloud hosting services, AWS has over one-third of the industry's market share that keeps growing.
How?
Cloud is slowly becoming an integral part of almost all internet services. Of course, web hosting services are no stranger to this advanced technology trend.
Cloud hosting is getting more popular by the day as it provides incredible performance and rich features that are akin to expensive hosting services.
What is Cloud Hosting?
The aptest application of cloud computing or cloud hosting uses the servers interconnected on a high-speed network. These servers collectively form a single hosting platform that is what we call the "cloud."
In other words, the provider links many server machines to form a cloud network and virtually modifies it to serve as a single scalable server to host websites.
Users can freely scale and adjust the resources as per the current requirements of their website/sites. The cloud provider tracks the usage of processing power, memory, etc., and charges the user accordingly.
Simplifying it further!
Consider you are at an all-you-can-eat buffet you can eat whatever you want, however you want or any amount you want. Except, unlike other buffets where your meal has a fixed price, no matter how much or what you eat, you have to pay only for the dishes you ate.
Just how convenient it will be, right? You won't have to overpay for the entire course and come home happy and with your tummy full with your favorite dishes.
It is exactly what cloud hosting is all about!
You get access to near unlimited processing power, memory, and other resources of multiple servers at your disposal. All you have to do is scale the levels of these resources as required by your websites and readjust the hosting's calibrations for a stable website.
When it is time to pay the bills, you can be assured to be charged reasonably and that you would not have to throw your money away like on some ridiculously expensive hosting plan.
AWS Cloud Hosting
Amazon Web Services(AWS) is the choice cloud hosting provider for many big and small websites. AWS has an outstanding cloud infrastructure which is comprised of powerful servers located in multiple geographic locations internationally.
As the world's most sought-after provider for cloud hosting, AWS has made no compromises whatsoever in technology, delivery, support, etc. They even provide academic training to individuals and help them better understand AWS services and technical aspects.
There are very few cloud hosting providers out there that can actually compete with the services AWS offers. No wonder it stands head-over-shoulder than the rest of its competitors.
Managed AWS Cloud Hosting by MilesWeb
Cloud hosting is a convenient hosting service that manages to provide impeccable performance for websites as the users can freely scale the required resources as per
Managed cloud hosting is a type of value-added hosting service where the provider takes care of all the operations and issues related to hosting. The idea is to relieve customers of the worries and efforts they have to take for managing the hosting by themselves.
Ever since its beginning in 2012, MilesWeb has made a name for itself in global web hosting and is fast emerging to lock horns with the big shots in the industry. MilesWeb is one of the leading and among the very few hosting providers around that offer managed cloud hosting services and small business web hosting. In fact, they were the first to materialize the idea of providing managed cloud hosting.
What can you Expect from MilesWeb's Managed AWS Cloud Hosting?
MilesWeb is one of the first providers to offer plans for managed AWS cloud hosting. Over the years, they have developed a perfect system for the service and have received a positive response from their customers. Here are some of the highlights of MilesWeb's managed AWS cloud hosting:
AWS certified expert team: MilesWeb has rigorously trained its support team for managed cloud hosting that consists of AWS certified experts. Every single member of this team knows all the ins and outs of the AWS cloud hosting and can tackle any issues regarding the same.
Active management: Our team watches over and maintains a subtle balance between resource consumption and allocation. It enables your websites to run smoothly without a hitch while assuring you of the best uptime, security, and network for them. Their duties include monitoring the websites' traffic for any data spikes, scanning and dealing with malware threats, and so on. The team scales the processing power, memory, and other resources accordingly and ensures top loading speeds and performance of your websites.
Fully optimized hosting: Your AWS cloud hosting has other aspects than just scaling the resources and tackling security threats. The hosting also needs to update and optimize tools and OS to keep everything running at a good pace. MilesWeb's managed AWS cloud hosting takes care of these duties as well.
Unlimited and 100% human support: MilesWeb's award-winning customer support has always been the selling point of their hosting services. However, with their managed AWS cloud hosting, clients get one-on-one support where they can interact directly with MilesWeb's support executives. You can expect assistance from their support at any time and day of the year.
Here are the plans for MilesWeb' managed AWS cloud hosting for both Linux and Windows: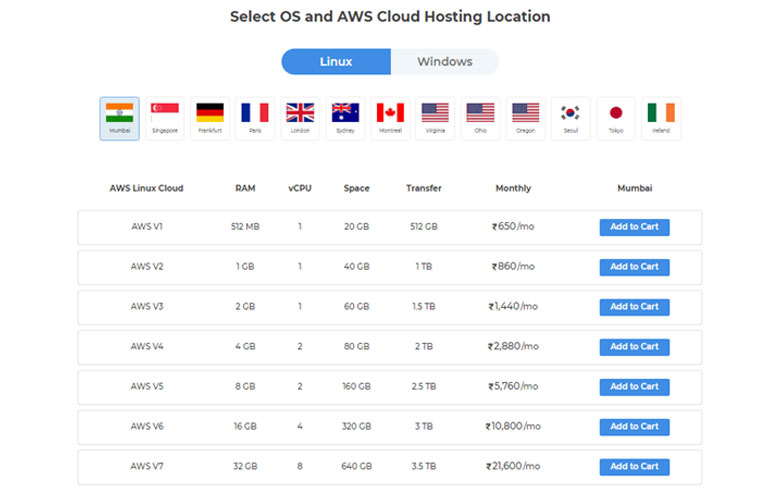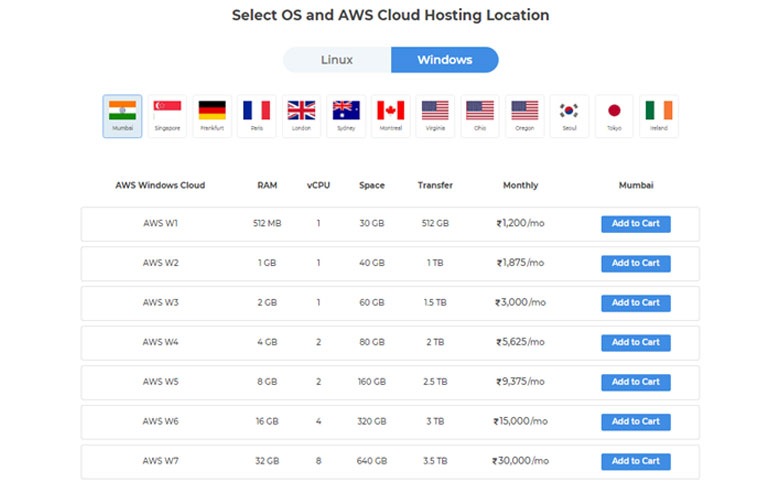 Summarizing
AWS is the leading and considered to be a premium cloud hosting provider.
Cloud hosting itself is a convenient way to host high-performance websites without worrying about the shortage or unavailability of resources. It is possible because of the scaling of resources and other such utilities that in turn assure optimum performance at any given time.
AWS even bills you as per the usage of resources which is the salient feature of this service as you can willingly control the resources, ergo, control the billing amount.
However, you have to stay vigilant else; this very feature may turn against your expectations. If you are not careful and neglect the scaling, you may get overcharged and lose money rather than make a profit.
MilesWeb provides managed AWS cloud hosting that overcomes this issue and more. By subscribing to this plan, you are assured of high-speed websites and 24-hour year-round support at a reasonable price.
It is perfect for businesses that have a lot of business operations to look for and can't attend or hire a team to manage the hosting themselves.