On Wednesday, Google launched the next version of Android which is the first beta of Android Q. although we are going to have it later in this year, it is now available to those who want to help test it unlike from past when the Android Q was only available for the developers to test.
But on a precautionary note; we are not at all recommending the downloading of this version. The latest thing is not complete, and it has a lot of bugs in the system.
These bugs can ruin your mobile battery life and break things that you were not expecting at all.  The seriousness of the matter is of this height that even Google warns the downloader while you sign up.
According to Google, normal and core functions like making or receiving calls will become affected. So if you don't have any extra, old mobile phone which supports beta, then you better wait.
Eligible Devices:
According to the reports, at the launch, Google made sure that certain mobiles phones were eligible with this new Android Q which are as under:
Pixel,
Pixel XL
Pixel 2
Pixel 2 XL
Pixel 3
Pixel 3 XL
How can I download it?
To download it, you must follow any of the two methods presented by Google. They are as under: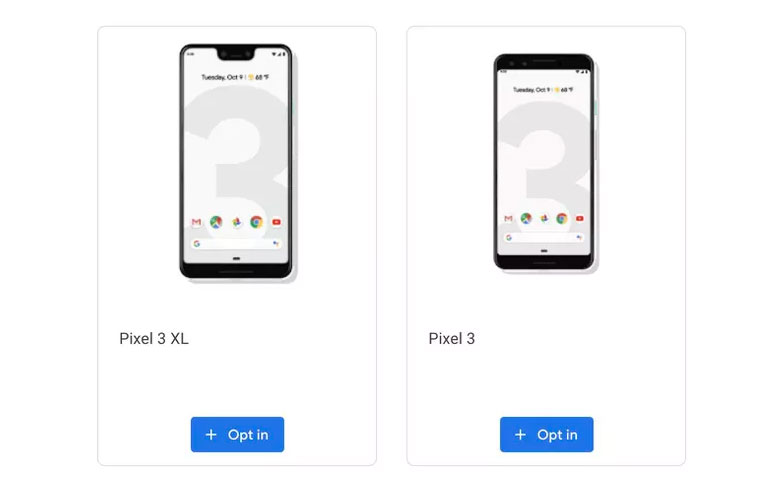 Download from Google: What you have to do is to unlock your Google's device bootloader and reset the factory setting. Then you must install it. It will work by flashing the system images after you have downloaded it. Since you have to flash each beta image manually, it is quite a hassle.
From the website: To download the Android Q from the website you have to wait for it. You have to go to your google account in your Pixel phone and get to the link of sing in. There you will find the option of your eligible devices and select OPT-IN. You will enter a new window on which different term and conditions will appear, you must accept it to proceed further. Once you are enrolled with your device, you will start receiving the Android Q beta updates just you get the software updates.
Very easily like you opt-in for the update, you can leave beta any time you want. All you have to do is to follow the following steps.
If you have downloaded via flashing images, then you will have to download the latest official build and flash it via same tools as you were doing for android Q beta and the mobile phone will go back to factory setting and reset itself.
In case you have downloaded it through the website then you will have to go to the beta program and opt out. Simple. The phone will factory reset, and you are out.