Today, Reddit is one of the most well-known and visited social networks focused on social news, web content rating, and a place to discuss many topics. All content posted on this platform is categorized by categories created by its users, known as 'communities' or 'subreddits.'
As it is one of the most visited, it is one of the largest and most complex platforms, making it a little harder to navigate, especially for those meeting Reddit for the first time. But there is a solution to every problem, and so is this one. Namely, many tools today make it easier to research and use Reddit. Some are free, while for some you have to pay.
Below we bring you six free tools to make it easier to explore Reddit.
1. FindAReddit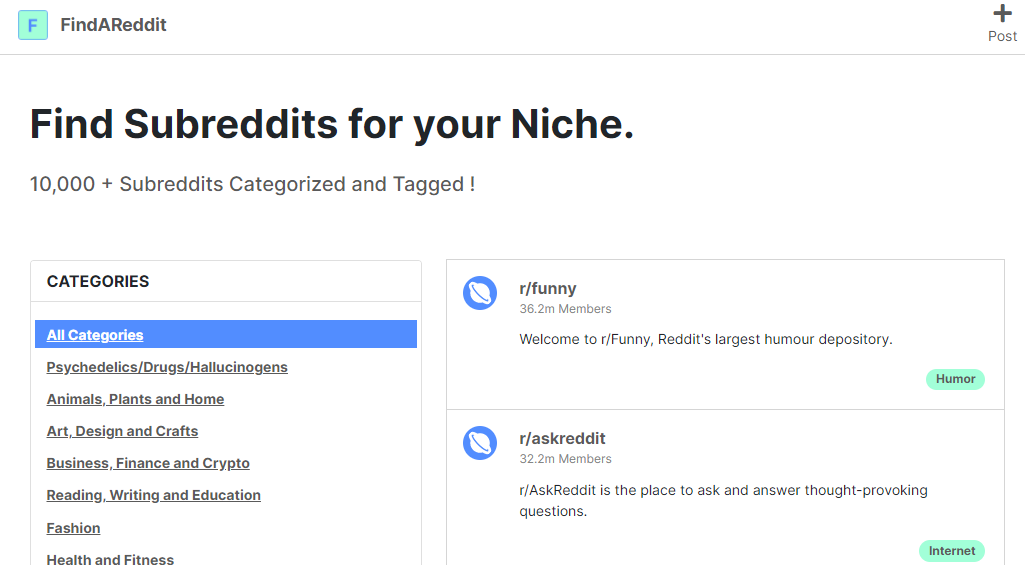 FindAReddit is a tool that contains over 10,000 categorized and tagged SubReddits. It offers a fascinating and comprehensive search engine that allows users to find a SubReddit of their interest.
Using it is not tricky at all. While on the home page of the tool's official website, clicking on one of the categories from the list expands the search options while decreasing the number of items to be searched.
In addition to searching for existing SubReddits, this tool offers the ability to create and submit a new SubReddit, which will later be available for search by other users.
2. FindonReddit

FindonReddit is another free tool that makes finding what you are interested in and what you are looking for on Reddit much easier and faster. This tool uses the Google Custom Search Engine.
More specifically, this modified Google search focuses on Reddit because SubReddit names have a higher priority in this search engine than in the Google search engine.
Therefore, there is no need to write additional queries together with your keywords, that is, with the name of the SubReddit you want to find. That concept is more accessible exploring Reddit and searching through it.
3. SubReddit Stats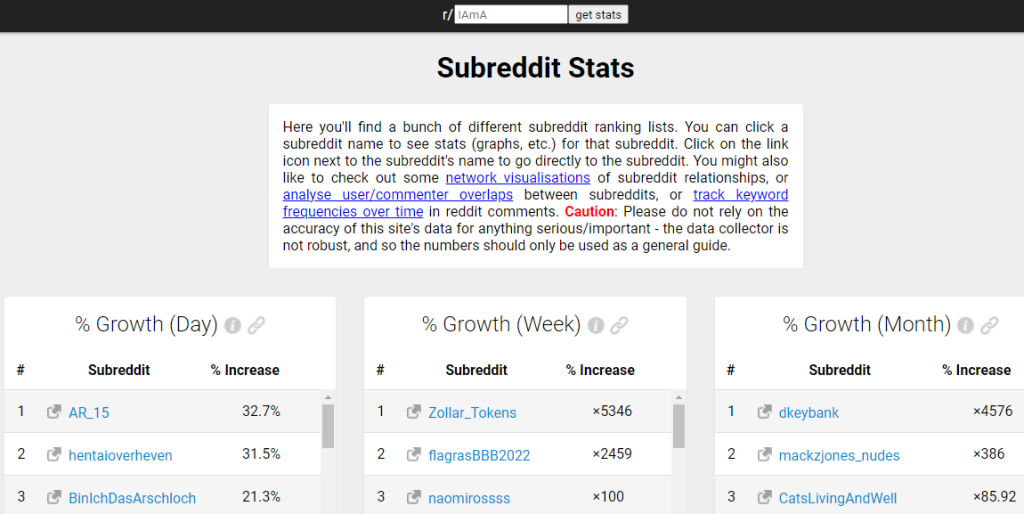 SubReddit Stats is a tool that makes it easy to find the SubReddit you want by entering its name in the search engine and clicking the "get stats" button. If there is a SubReddit with the same name as the entered one, it will be displayed as a result.
In addition to the search option, more precisely, together with the searching and finding of the SubReddits, this tool also offers statistics related to SubReddits, including various graphs with various data. This tool redirects you to SubReddit on Reddit's official website by clicking on the link icon.
Because the data collector in this tool is not robust, you should not use the data and statistics provided by this tool for anything serious that requires accurate data. We suggest that you use the data provided by SubReddit Stats as a general guide.
4. RedditList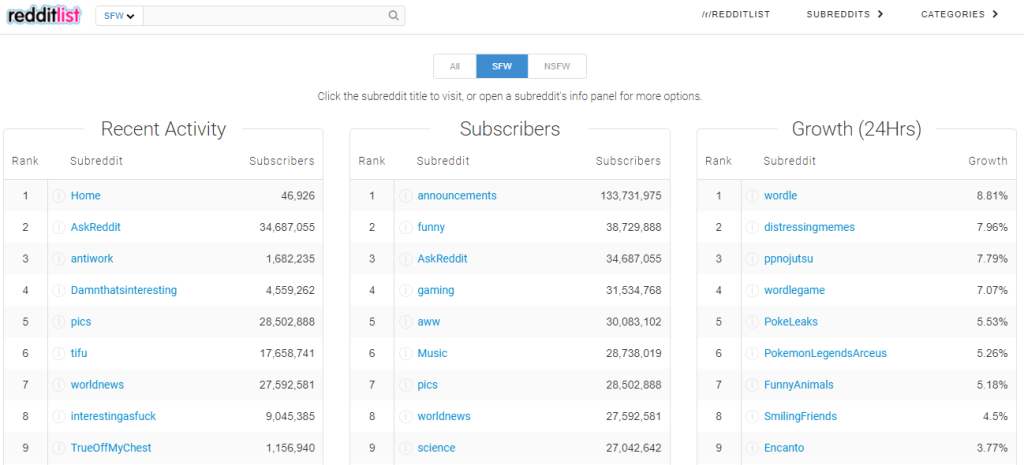 RedditList is a free tool that makes it easy to research Reddit and its entire content. It has a vast collection of SubReddits with links, making it easier to navigate through them.
In addition to searching SubReddit itself, this tool also offers specific statistics and numbers related to them (such as the number of subscribers, growth/decline, and many others). It thus helps analysts to study trends on Reddit.
5. UnReadit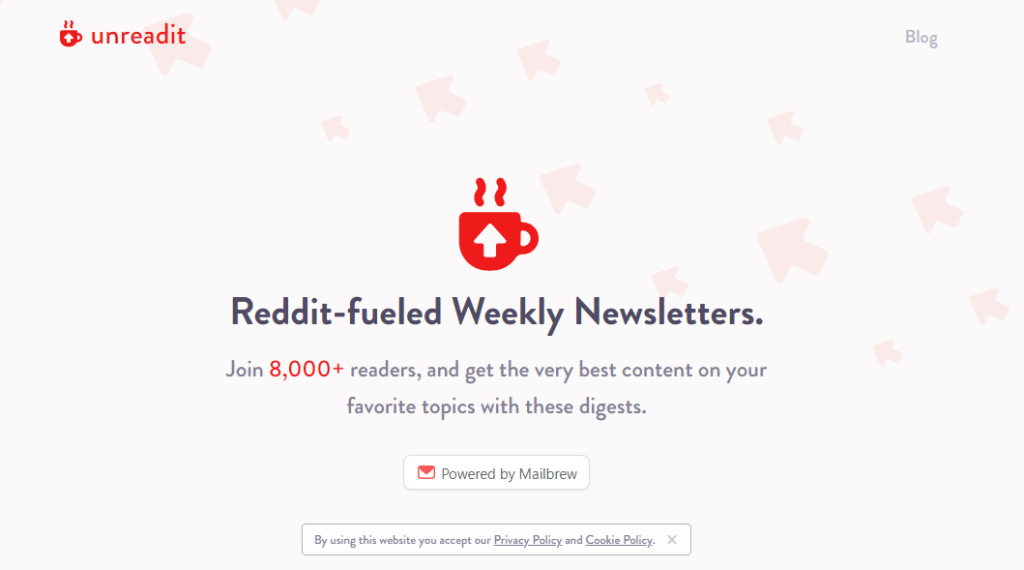 This tool is a complete novelty and unique in free tools for exploring Reddit. UnReadit uses an algorithm developed by the tool's creators to automatically create and generate newsletters containing the best content entered in Reddit's SubReddits.
The main goal of this tool is to save time for users who are looking for the best and highest quality content. Also, it is essential to note that users can subscribe to the newsletters they want.
6. Map of Reddit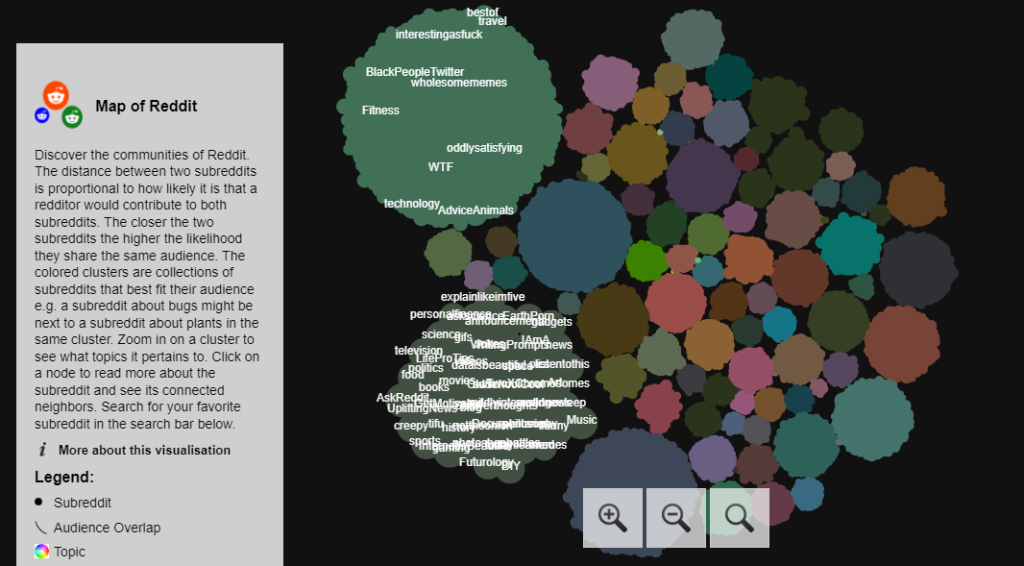 The final tool on this list, Map of Reddit, gives you two options for finding a SubReddit. The first method is to use a search engine, where you enter the name of the SubReddit, and the search returns the details of that SubReddit, including its relationship and connection to other SubReddits.
Another way is to go through the map of SubReddits organized into clusters, and by clicking on one of them, you get all the details the same as when you get the results from the search engine.
Conclusion
As already said at the beginning of the text, Reddit has many posts, articles, and discussions, generally very large and diverse content. Finding something specific in the sea of information can be very difficult and time-consuming.
We have seen how the above tools make it easier and faster to explore Reddit and its content. Instead of wasting time, use the power of the tools mentioned above to achieve the same or even better results in a much shorter amount of time.