Rooting a device means getting privileged access to your device. You can use the maximum power of the CPU and graphics stuff of a rooted device. A rooted device gives you a chance to customize your device according to your need.
Rooting can be used for overclocking or underclocking an android device to get better performance. As rooting a device has several benefits, it also has many drawbacks, such as you cannot claim the warranty of the device.
There is a different kind of rooting apps available in the market for different purposes. You may have seen unnecessary apps that are running in the background that drains the device's battery and the storage for no reason.
You can use rooting to delete or uninstall unnecessary pre-installed apps. You should be keen when using any root app as you may lose your data on the device and may brick your device. We have nominated some of the best root apps that you must go through if you have a rooted device.
Adblock Plus
Internet ads are the most terrible things we face as a user. The ad videos and banners slow down the surfing speed as the ad content uses a large amount of internet data. Adblock Plus is a browser extension.
It is able to block all kinds of ads on a webpage such as Ad banner, Ad videos, and Ad games, etc. This extension is available for almost all popular browsers, which include Chrome, Firefox and Safari, and Microsoft Edge.
Many people are unaware that AdBlock Plus is a rooting application because it does not ask for any special permission. This application is greatly customizable as you can pause adblocking for specific pages and the sites that do not run with the AdBlock on.
Bouncer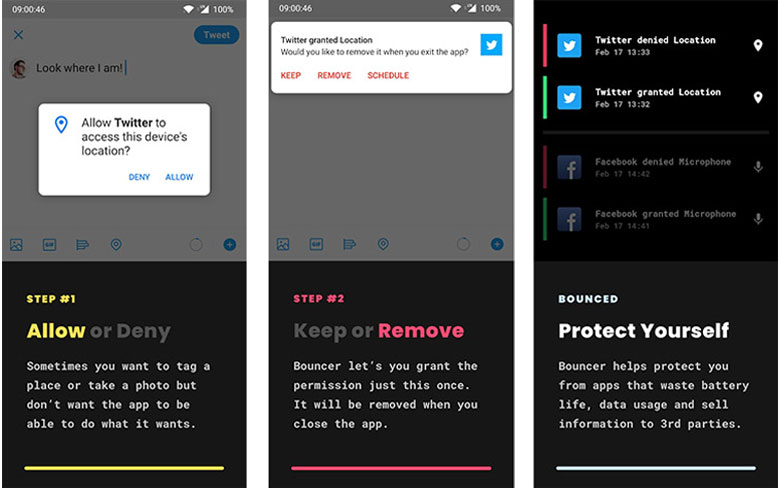 Have you ever thought about where your internet data is consumed even when you don't even use the internet? It is because of the permissions we allow when installing an app, the app send and receive data in the background.
The app uses different services in the background, which drains the device battery. With the Bouncer app, you can approve permissions for a specific period, such as the permission of the app will be disapproved as soon as you quit the app or press the home button.
You can grant permission to apps temporarily; this saves the battery life as well as boosts the performance of apps. Unlike AdBlock Plus, it is a paid app, and there is no doubt that apps like deserves a few bucks.
FK Kernel Manager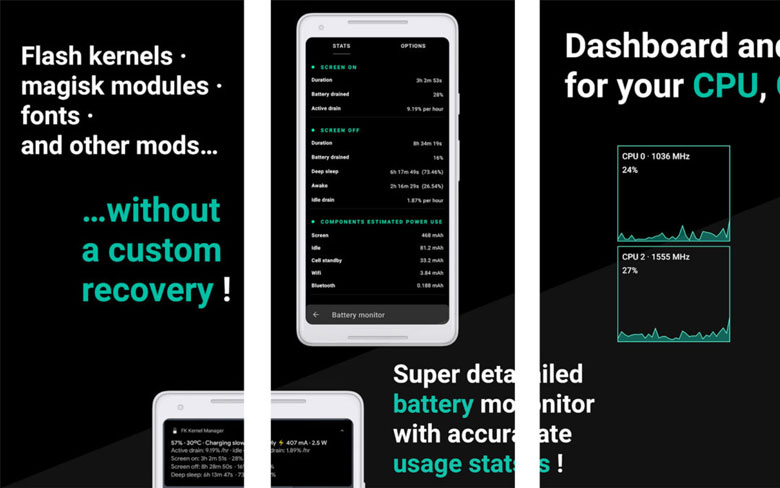 FK Kernel manager is one of the most popular apps for its usability and easy to use interface. Everyone from a simple user to an expert can use this app effectively to customize a device. This app gives you extensive control over your device.
There are numerous battery life-saving apps that are helpful in some way, but it affects the performance of applications and services.
Most people use FK Kernel Manager to increase battery life without affecting the device's performance. There are numerous options for device software customization, and one can use it without any professional knowledge of apps. Not only customization, but his app also allows monitoring the battery usage, which is a very crucial tool for developers.
Magisk Manager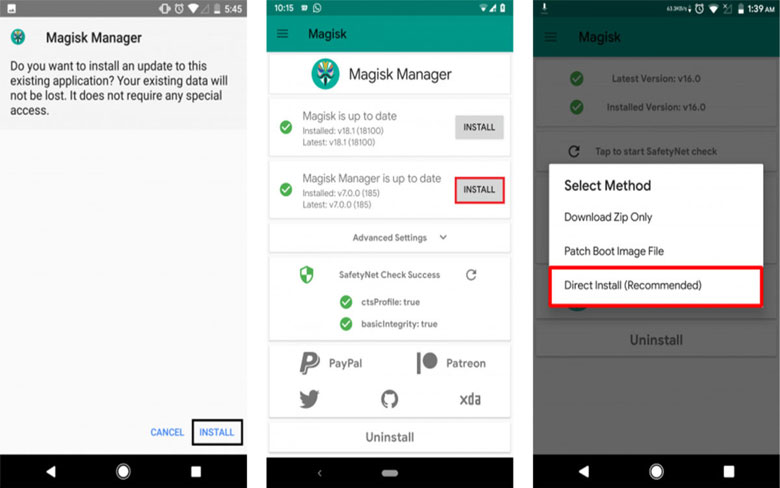 A Magisk Manager is a tool used for customizing android devices, and it was developed in 2016 by XDA developers. Magisk is well renowned for systemless root in which an android device is customized according to needs without even altering the original android system.
The modifications made by Magisk Manager are saved in the boot partition, and the original system files remain the same and safe. You can customize your android device like never before; you can extend the functionality of the android system.
This app cannot be installed from Google Play Store directly; you will find this app on some outsource store free of cost. The software is updated frequently to remain undetected by SafetyNet.
Migrate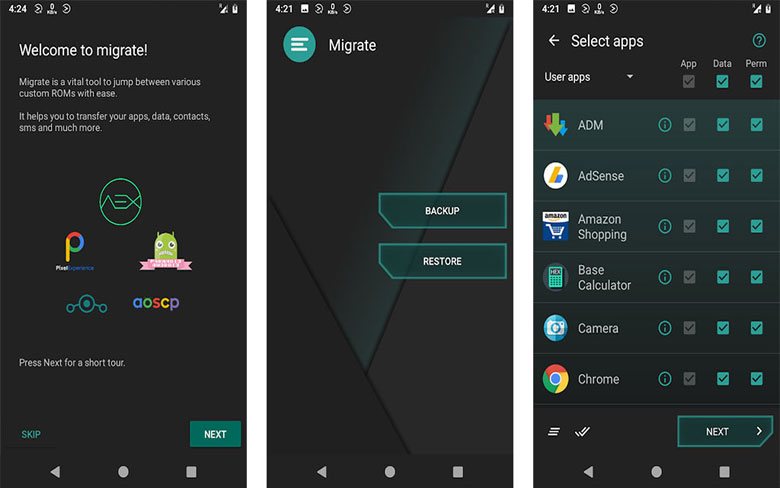 Migrate is a new root app that makes switching the custom ROMS easy like never before. As switching ROM is a complicated process, skipping a single step can lead to loss of all data and setting, which can be very disastrous for some people.
With the easy to use interface of Migrate, any non-professional can switch between ROMs without any risk of data loss. To keep the software free of malware and bugs, the companies install specific settings and restraints to keep the software safe and secure. With Migrate, you get full access to software customization. With its TWRP, you can backup all data and settings that you can revert anytime.
Naptime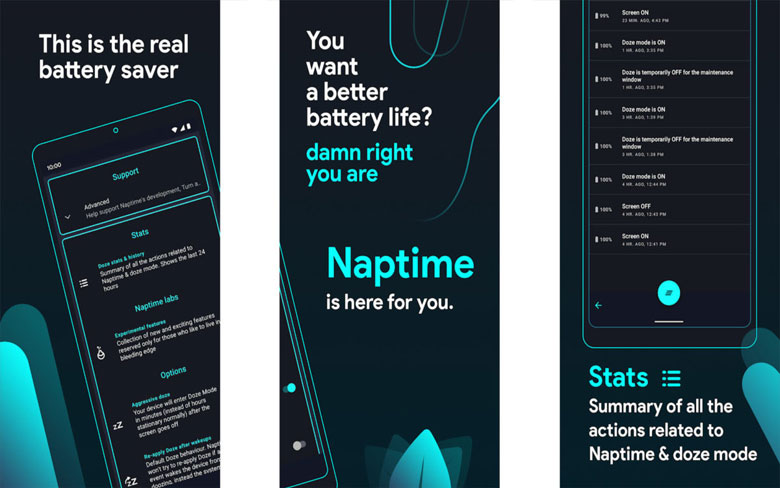 Naptime is one best battery saver app available in the market and is developed by well-known company Francisco Franco. This app automatically reduces the CPU usage without affecting the performance of the device.
As we know, the device uses a lot of power even if the screen is turned off; naptime allows the device to use the only required amount of power. This app turns on Doze Mode automatically when the screen goes off to save as much power as possible.
Android version from Marshmallow comes with built-in doze mode, but the device goes to doze mode after 1.5 to 2 hours, it means your device goes to doze mode only when you do not turn on the device screen for more than two hours. This app is highly liked by a large number of users due to its power-saving features.
Permission Ruler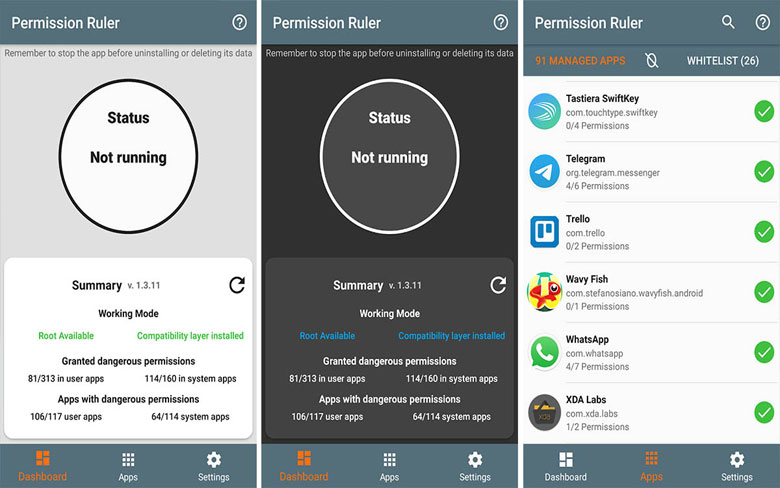 Permission ruler is a permission managing tool for different apps. Many apps secretly collect data from our phones without even knowing you. When we install any app, we do not just accept the agreement license but also approve the permission to access different settings and services.
This app not only keeps you safe and secure but also optimize battery usage. The interface is very simple, and any rookie can use it efficiently. Its special locking/unlocking permission feature makes it one of the best apps of its kind. This app only works on rooted devices as it customizes the setting and services, and it has permission granting authority.
Servicely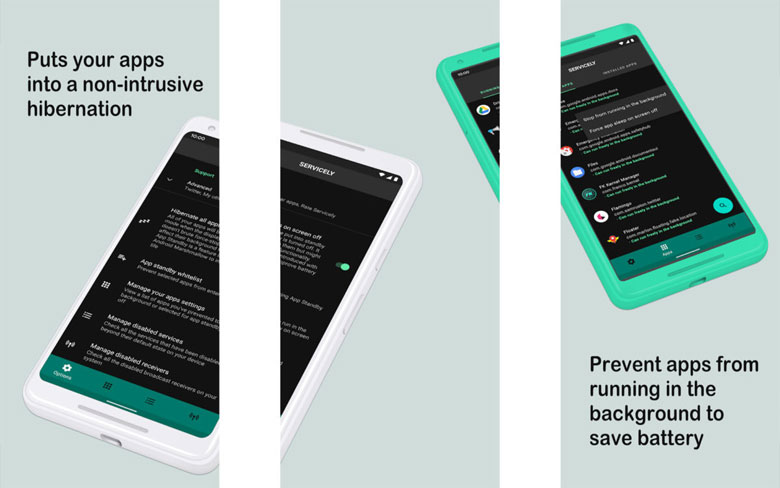 Servicely is an application service that keeps the battery hungry applications to run in the background. As the battery timing is the main issue with modern android devices, a device with more applications drains the battery quickly due to processes running in the background.
Servicely Pro is a paid application and is also available in the free version. The free version of Servicely can work for up to 3 applications, while the paid version allows you to kill background processes of applications as much as you need.
It boosts the device performance with lower power consumption. It is superiorly able to extend the battery life of a device for up to 2 hours, which is quite impressive.
Solid Explorer
Solid Explorer is a modern file explorer with a lot of features and functions, and it requires root access to do most of the stuff. As the basic file explorer of phones is not much handy to view or find the specific files, people switch to external file explorers such as Solid Explorer.
It is extremely customizable and easy to use, and it is considered one of the best file managers. You can manage your files on cloud storage like Google Drive or One Drive. This file manager has several remarkable features, such as Password encryption and Fingerprint encryption.
Along with the basic options, which are cut, copy or paste, etc. you can also rename multiple files at once, it makes file organization experience like never before.
Substratum and Synergy
Substratum and synergy are theming apps for android devices. These apps can only be used on compatible rooted devices, and only a few devices are compatible with these apps. After installing the app, you can find Substratum and synergy themes online or at the play store.
Most of the themes are paid but don't worry as plenty of free themes are also available. Synergy is also a theming app and works on newer Samsung devices; it provides a faster and more stable user interface. You can choose from thousands of lights, dark and colorful themes; it helps for a better user experience.
Tasker
Tasker is known as one of the most powerful automation applications for android devices. You can turn your android device into a fully automated device with the Tasker app. The reason why this app is not so popular as it is not easy to get a grip on it.
The interface is simple but not easy to use; proper knowledge about android working is required for this device. If you are a common android user, you cannot use this app efficiently.
This app is able to do more than 200 tasks automatically, which is very impressive. This app features up to 6 profiles and lets you make widgets and extend the functionality of your android device.
Titanium Backup
Titanium Backup is undoubtedly called one of the most popular backup applications due to its usability and functionalities. One can do multiple tasks with this application; you can freeze apps, backup the data and settings, and can also uninstall bloatware application.
Titanium backup is best for new root users as it gives access to restore the backed-up data and settings. You can also sync the backed-up data on cloud storage such as Dropbox. Unlike the unpaid version, With the Titanium Backup pro version, you get all the features and functions unlocked. This app is very stable and has the capability to do a variety of tasks.
Viper4Android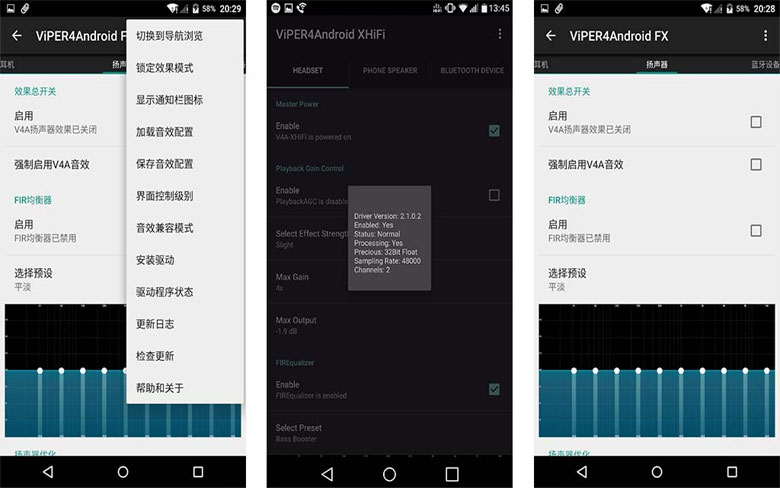 Viper4Andriod app is a rot app for music lovers; it acts as the audio driver for your phone. You are fully allowed to control how the sound comes out of your device. You may have seemed HTC or Lenovo phones with Dolby and Beats audio systems; Viper4android also works similarly. There is only one concern with this app that it can only be run on a rooted android device.
This app gives you access to customize the audio settings like never before. Have you ever noticed why audio is low on YouTube? It because of software restraints by developers, you can enhance the audio with this app. You can choose from different Audio MODs like Dolby or Beats etc.
Wakelock Detector
You must have noticed that you set your phone down, but the screen remains awake for a long time, and even after closing all the apps, the issue remains the same?
The device screen may remain awake for several reasons as if you have changed something from developer options. A Wakelock detector is used to detect what app or service is keeping the screen on.
This service or application drains a lot of battery power. You can use a wake detector to check what apps are running in the background and draining the battery or consuming CPU Power. Wakelock Detector can only be installed on rooted devices.
Xposed Framework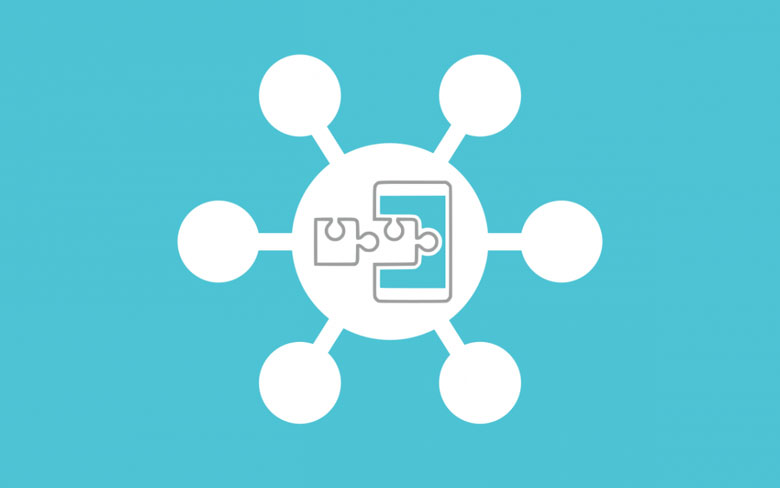 Xposed Framework is a developer's tool that is used for customizing the android system without flashing new ROMS. You can use the Xposed Framework for adding different features or modifications to your device.
For installing the Xposed Framework, an android device should have root access. The app is specially intended for those who want to remain on stock ROM; it is much more time-saving.
You can add features and modify the functions without flashing new ROM. This app does not run on every android device and has some android version and device compatibility issues. It is very easy to install as well to use it with its simple interface.